Updated: 2020-07-17
The carryforward of tax returns from ProFile® software to TaxCycle may fail if ProFile® is running with administrator privileges and TaxCycle is not. 
This issue may occur on Windows operating systems that use Universal Access Control (UAC), specifically Vista and above (not on Windows XP).
To resolve this issue, we recommend running ProFile® with standard user permissions and not as an administrator.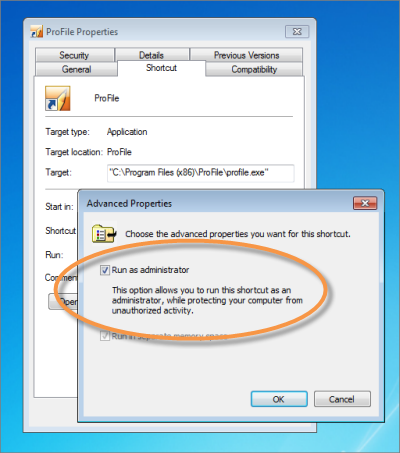 To make sure your shortcut doesn't automatically run
as administrator:
Close ProFile®.
Find the shortcut you usually use to start ProFile® (on your desktop or in the Start menu).
Right click on the icon and select Properties.
On the Shortcut tab, click the Advanced button.
Clear the Run as administrator checkbox.
Click OK.
Click OK again.
Open ProFile® again using the same shortcut you just edited.
If you continue to see this issue, you could try running TaxCycle as an administrator. Close TaxCycle, then right-click on the icon and select Run as administrator. However, please only do this to further troubleshoot issues, as running programs as an administrator presents certain security risks.
Please contact us for further assistance.