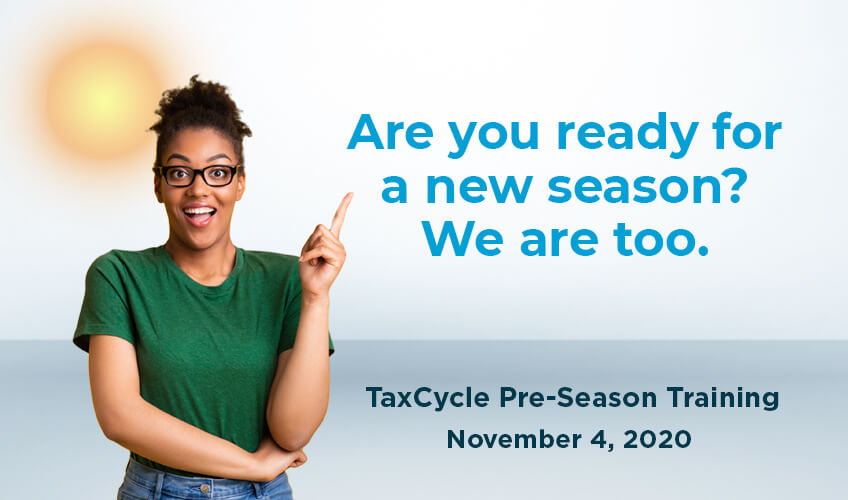 Online Training Conference: Session Information Now Available
Want to see the latest features in TaxCycle? Over 1000 TaxCycle fans have already locked in a ticket for our Online Training Conference. Spend the day with us on November 4th for live sessions and pre-recorded training.
Session information is now available. Visit our Training page to check it out.
Answer the polls during each session to qualify for verifiable professional development credits.
Wednesday, November 4, 2020
7:00 a.m. to 5:00 p.m. MT
9:00 a.m. to 7:00 p.m. ET
$0
Live Sessions 10 a.m. MT to 2:30 p.m. MT

12 p.m. ET to 4:30 p.m. ET
Join other conference attendees for live keynote presentations and discussion panels. This is where you'll learn about what's new this season and have a chance to ask questions and provide feedback.
10:00 a.m. MT — "Sneak Peek" with Cameron Peters
11:15 a.m. MT — "Tax Update" with Sarka Hojda
12:15 p.m. MT — "Did You Miss It?" with Elizabeth Kohl
1:15 p.m. MT — "Ask Us Anything" with TaxCycle Panel
For the "Ask Us Anything" session, please send us your questions. We'll include as many answers as we can in the panel discussion.
On-Demand Training 7 a.m. MT to 5 p.m. MT

9 a.m. ET to 7 p.m. ET
Start or end your day with TaxCycle training webinars. Build your own custom training with pre-recorded sessions. Choose from topics for those new to TaxCycle or those wishing to upgrade their skills. TaxCycle team members will be available to answer your questions as you learn. Check out the list of pre-recorded sessions now.