RESOLVED: "Transmission content is invalid"
The Canada Revenue Agency (CRA) slips Internet filing is now closed. It will be available starting January 7, 2019.
Even though it is currently not possible to Internet file with the CRA, we have discovered an error that occurs when you attempt to transmit from TaxCycle. The filing box in the Transmit sidebar returns the error Transmission failed and states that "The transmission content is invalid."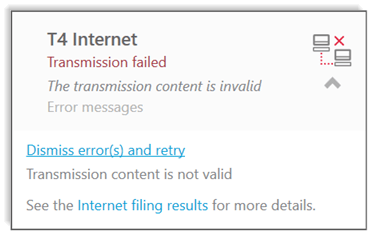 Anticipated resolution
This issue is resolved in version 8.0.34443.0.