TaxCycle 10.0.41708.0—2020 Slips Filing and T1/TP1 Preview (Revised)
This major TaxCycle release is ready for filing 2020 slips with the Canada Revenue Agency (CRA) when systems open on January 11, 2021. It also contains preview calculations and forms for 2020 T1 and TP1,  personal tax returns, the addition of business authorization filing to T1, T3 and T5013 modules, and enhancements to Options Profiles and the Template Editor for the coming tax season.
Get this version as an automatic update, full download from our website or a free trial. (To deploy auto-update files from your network, see the Auto-Update Files page.)
Release Highlights
Revisions
January 12, 2021—We released an update with the following changes since version 10.0.41679.0:
T4 / T4A locked files issue is now resolved.
The FILING AND AUTHORIZATIONS section (including the T183) is once again visible in the T2 Prepare sidebar.
All templates, regardless of size or complexity, are now visible in the Template Editor.
The printer setting descriptions are now displaying correctly in the Options dialogue box.
Preview of T1/TP1 Forms and Calculations for 2020
This release updates the T1 federal and provincial schedules, as well as many other forms, to the latest versions available from the Canada Revenue Agency (CRA). It also updates the TP1 jacket and all schedules to the latest versions available from Revenu Québec.
All forms other than authorization forms, remain in a Preview state and will show a watermark. The Preview watermark will be removed once we receive approval of the T1 Condensed and barcode from the CRA, as well as a number of final forms, and complete our carryforward and calculation testing. We will likely begin removing the watermarks in mid-January.
Update to this release to try the latest forms and calculation changes to T1 and TP1. You can begin data entry, but must wait CRA and Revenu Québec certification before filing. We also strongly recommend waiting to perform any batch carryforward for files to 2020 until those changes are complete.
Form T183 remains the 2019 version pending receipt of a final 2020 version from CRA. At that time, we will implement both the 2020 version as well as the new Form T185, Electronic Filing of a Pre-authorized Debit Agreement (PAD). In the meantime, if you do complete a return for a client that you will be sending through EFILE once it opens on February 22, 2021, you can print the current version and have your client sign it to authorize the future transmission of the return.
Important form modifications
COVID-19 federal and provincial benefits

These appear on a T4A slip in boxes 197 to 204 and are reported on line 13000.
The Canada Recovery Benefit (T4A box 202) is subject to a social benefits repayment (line 23500) when net income exceeds $38,000.

Digital news subscription expenses

This is a new non-refundable amount where up to $500 can be claimed for subscriptions to digital news services with qualified Canadian journalism organizations.
This can be claimed at line 31350 by entering the details of the subscription payments on the Credits worksheet.

Canada training credit

Schedule 11 now includes a section for establishing the claim of this credit which is then claimed on line 45350.
This new section interacts with the 2020 Canada training credit and 2021 limit worksheet.

Manitoba Senior economic recovery credit

MB479 now includes a section for claiming this credit if the client is eligible and did not receive the direct payment in May or June 2020 from the Manitoba government.
New forms for 2020
T2200S and T777S–Employment Expenses for Working at Home Due to COVID-19


As announced by CRA recently, employees who had to work from home may be eligible to claim home office expenses using Form T777S, either the simplified method or a detailed method which will require them to obtain Form T2200S from their employer. 
A question has been added at the top of the Employment expenses worksheet (T777WS) to indicate if the client will be using Form T777S or Form T777 to claim their employment expenses.
Revenu Québec just issued form TP-59.S-V, Expenses Related to Working Remotely Because of the COVID-19 Pandemic, which closely aligns with the T777S. This form will be added to TaxCycle T1/TP1 in a future release.
AuthRepBus Added to T1, T3 and T5013
This release makes the electronic filing of AuthRepBus and AuthRepBusCancel available in TaxCycle T1, T3 and T5013. Complete these worksheets to request or cancel online authorization for your business clients. Your client must sign and date this form before you can submit the request electronically, and you can request an electronic signature on this form.
To learn how to file authorization requests and cancellations from TaxCycle using these forms, please read the updated Business Authorization/Cancellation Request (formerly RC59 and RC59X) help topic.
Please note that the CRA no longer accepts forms RC59 (Business Consent for Offline Access) and RC59X (Cancel Business Consent or Delegated Authority). The CRA has replaced these forms with electronic filing of an online authorization request, mentioned above or AUT-01 (Authorize a Representative for Access by Phone and Mail) and AUT-01X (Cancel Authorization for a Representative), for cases where online access is not needed.
New

Codes 57 to 60 on T4 Slips for COVID-19 Reporting

Answer Yes to the new question on the Info worksheet in TaxCycle T4 to automatically add the new codes 57 through 60 as Other information for all new T4 slips in the return.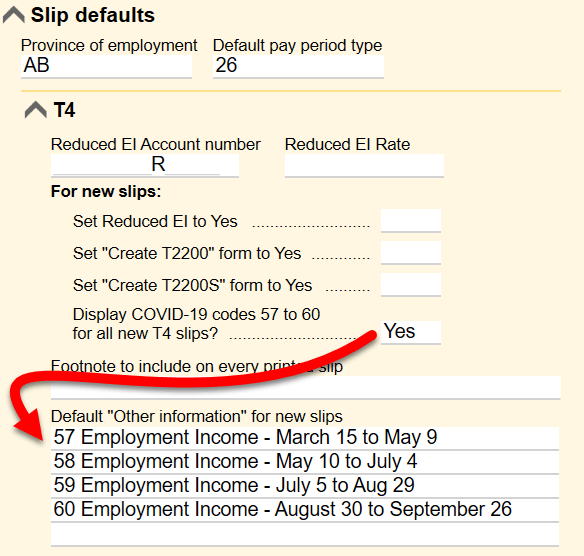 If you only require some of these boxes, delete those you do not need from the Info worksheet and this will remove them from the T4 data entry slips in the return.
If you are importing slips from XML or Excel and already have values for these boxes entered in those files, leave this question blank when you import the information. You can change the field to Yes after importing to add the boxes to any new T4 slips for manual data entry.
Use these new other information codes when reporting employment income and retroactive payments during COVID-19 pay periods. These additional reporting requirements apply to all employers, and will help the CRA validate payments under the Canada Emergency Wage Subsidy (CEWS), the Canada Emergency Response Benefit (CERB), and the Canada Emergency Student Benefit (CESB). For more information see the CRA information on the New T4 reporting requirements.
Status of 2020 Federal Returns and Slips
T1—Preview of 2020 forms and calculations. You may begin data entry, but must wait for CRA certification before filing.
T2—Certified to file tax year ends up to May 31, 2021.
T3RET—In progress. Wait to file 2020 returns. Forms will be updated to latest versions later in January, once approved by the CRA.
T3 slips—In progress. Wait to file 2020 returns.
NR4 (in T3 module)—In progress. Wait to file 2020 returns.
T4—Ready for filing upon system opening on January 11, 2021.
T4A—Ready for filing upon system opening on January 11, 2021.
T4PS—Ready for filing upon system opening on January 11, 2021.
T4ARCA—Ready for filing upon system opening on January 11, 2021.
T5—Ready for filing upon system opening on January 11, 2021.
T5013-FIN—In progress. Wait to file 2020 returns.
T5013 slip summary—In progress. Wait to file 2020 returns.
T5018—Ready for filing upon system opening on January 11, 2021.
NR4 slips (standalone NR4 module)—Ready for filing upon system opening on January 11, 2021.
T4A-NR slips (in NR4 module)—Ready for filing upon system opening on January 11, 2021.
Status of File Carryforwards from 2019 to 2020
As of this release, the following 2019 to 2020 carryforwards are up-to-date. However, we strongly recommend you only perform batch carryforward on tax modules that are ready for filing in the list above. We anticipate the rest of modules to be finalized later in January.
Ready for batch carryforward:
T2/CO-17—Carryforwards from TaxCycle, ProFile®, Taxprep®, Cantax® DT Max®, creating files with year ends up until May 31, 2021
T4, T4A, RL-1/RL-2—TaxCycle, ProFile®, Taxprep®, Cantax®
T4PS—TaxCycle, ProFile®, Taxprep®, Cantax®
T4A-RCA—TaxCycle, ProFile®
T5, RL-3—TaxCycle, ProFile®, Taxprep®, Cantax®
T5018—TaxCycle, ProFile®, Taxprep®, Cantax®
T3010/TP-985.22—TaxCycle, ProFile®, Taxprep®, Cantax®
NR4—TaxCycle, ProFile®, Taxprep®, Cantax®
Forms—TaxCycle, ProFile®, Taxprep®, Cantax®
RL—TaxCycle, ProFile®, Taxprep®, Cantax®
Wait for batch carryforward:
T1/TP1—TaxCycle, ProFile®, Taxprep®, Cantax®, DT Max®
T3/TP-646, RL-16—TaxCycle, ProFile®, Taxprep®, Cantax®, DT Max®
T5013/TP-600, RL-15—TaxCycle, ProFile®, Taxprep®, Cantax®
Enhanced Québec TP1 Optimizations
This release improves the calculations behind optimizations in Québec TP1 returns.
All returns now consider the impact on the Québec return when calculating an RRSP deduction (line 214).
Coupled returns now only claim enough of the following amounts to reduce the couple's Québec tax to zero:
CO-17 Updates
CO-17 jacket, line 441b
CO-1029.8.33.13, Tax credit for the reporting of tips
Status of 2020 Québec Returns and Relevés
TP1—Preview of 2020 forms and calculations. Please wait for a future update before filing.
TP-646—In progress. Wait to file 2020 returns. Forms will be updated to latest versions later in January, once approved by Revenu Québec.
RL-16—In progress. Wait to file 2020 returns.
RL-1—Ready for filing.
RL-2—Ready for filing.
RL-3—Ready for filing.
TP-600—In progress. Wait to file 2020 returns.
RL-15—In progress. Wait to file 2020 returns.
RL-24—Ready for filing.
RL-31—Ready for filing.
TP-985.22—Ready for filing.
New

Save Logo, Signature and Template Files,  Printer, Label and Summary Settings to Options Profiles

We have added new pages under the Files and Folders section in options. You can now add the following pages to your Options Profiles to easily share this information with others or migrate settings to a new computer. Previously, the only way to share these files was to copy them from the folder in C:\ProgramData\Trilogy\TaxCycle\ or create a shared folder on your network.

In addition, logo and signature image files configured on the Correspondence page can now also be moved into Options Profiles through a similar mechanism.

For the moment, these settings will continue to work from the current folder. At some point in the future, we will require everyone to transition their settings and template files to this new format. It is a simple process that involves clicking the link at the top of the new options page. For example, on the Printer Settings page, below. Please read the Move Settings and Templates to an Options Profile for detailed instructions.

Reminder

Automatic Backup of Options Profiles

Any time you add a file to an Options Profile, save a template file that is in an Options Profile, or click Apply or OK in the Options dialog to save changes to an Options Profile, TaxCycle automatically creates a copy of the zip file before saving the changes. 

You can find backups of the zip files in same folder as the original Options Profile. The files have the extension .zipbak and the file name includes the date the file was created.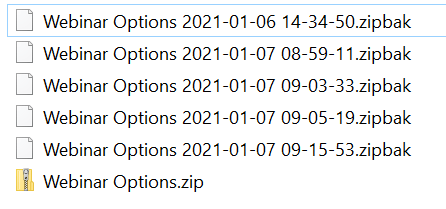 To revert to a backup copy of your Options Profile:
Close TaxCycle.
Delete or move the old Options Profile.
Rename the file to remove the date.
Change the file extension to .zip.
When you reopen TaxCycle, the restored profile will show in the list of available Options Profiles.
Customer Request

Singular or Plural Pronouns in Templates

A new option allows you to choose which pronouns show in letter and email templates. By default, TaxCycle templates use plural pronouns, including "we," "us," "our" and "ours." If you prefer to address your clients using the pronouns "I," "me," "my" and "mine," change the selection on the Correspondence page in Options.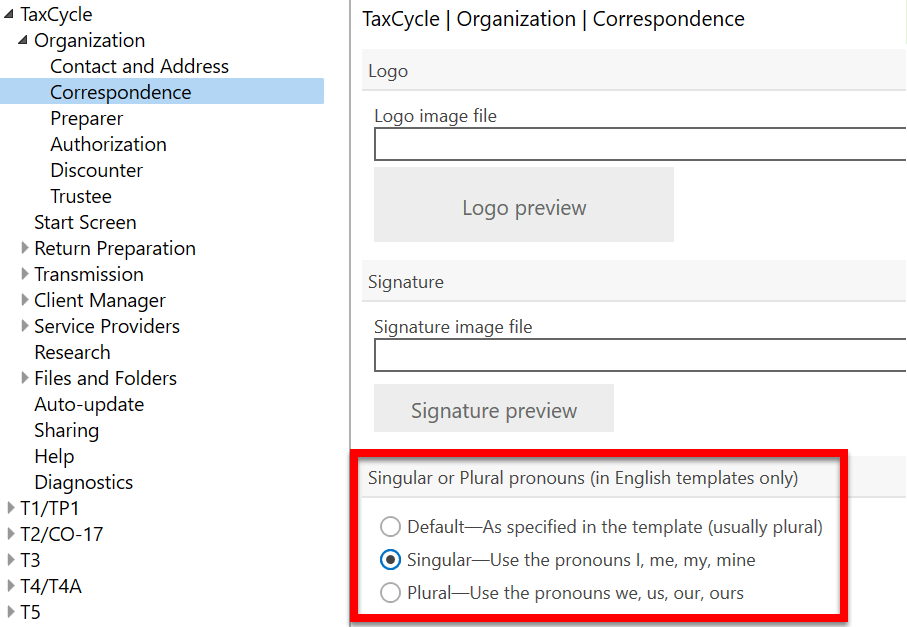 We have updated all the English templates in the 2019 and 2020 tax modules to use the new code syntax that s displaying content based on the selected option (this option is not applicable in French). If you usually customize your own templates, you can also use this syntax. To learn more, read the Singular and Plural Pronouns help topic for details.  
Customer Request

Easier Template Conditions

Have you ever struggled to get a template to print when expected? Does the idea of writing a condition to print the Joint Client letter or the Joint Invoice display sound challenging? And, if you've done this with your templates, are you frustrated that by cloning our built-in template it is now disconnected from any future updates to the template code? We have good news for you…

On the Templates page in module options, choose from a list of pre-set relevant (visible in the return) or used conditions for each template. Or type to enter your own custom condition in either field. The selections on this page take precedence over the condition set in the built-in templates, without requiring that you clone the template. This means the template will continue to receive any updates we release.

For instructions on setting relevant and used conditions for your templates, read the Template Print Conditions help topic.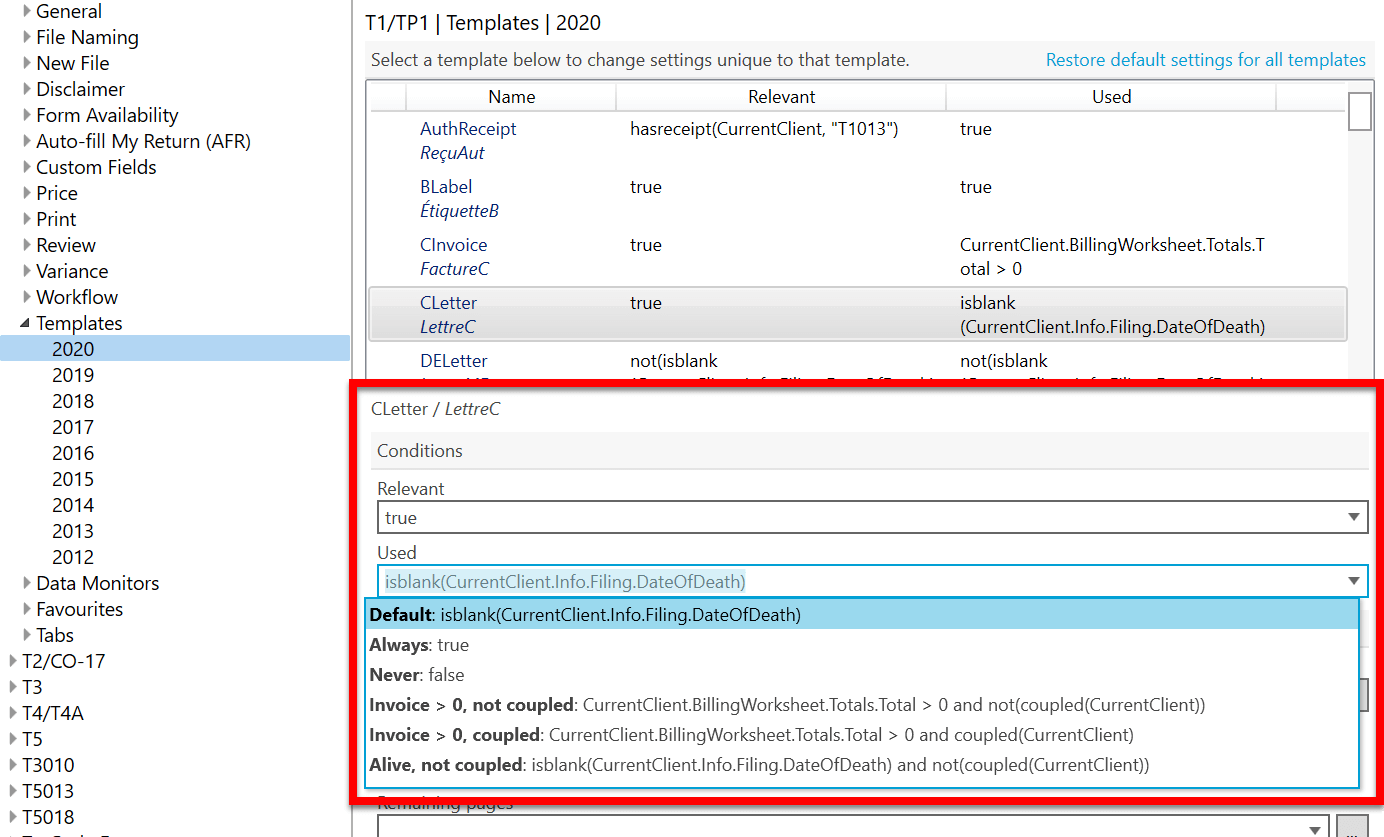 New

Background Layers for Letterhead or Footers

Add an image as the Background layer of any template in Templates module options. Upon printing to PDF or paper, TaxCycle inserts the image as a layer under the text of the template. This image does not display in the preview on-screen.

Use this feature to add an image as letterhead that spans the entire width of the page—just like with preprinted letterhead—or to add a footer to every page of the printed document. To learn how, see the Background Layers help topic.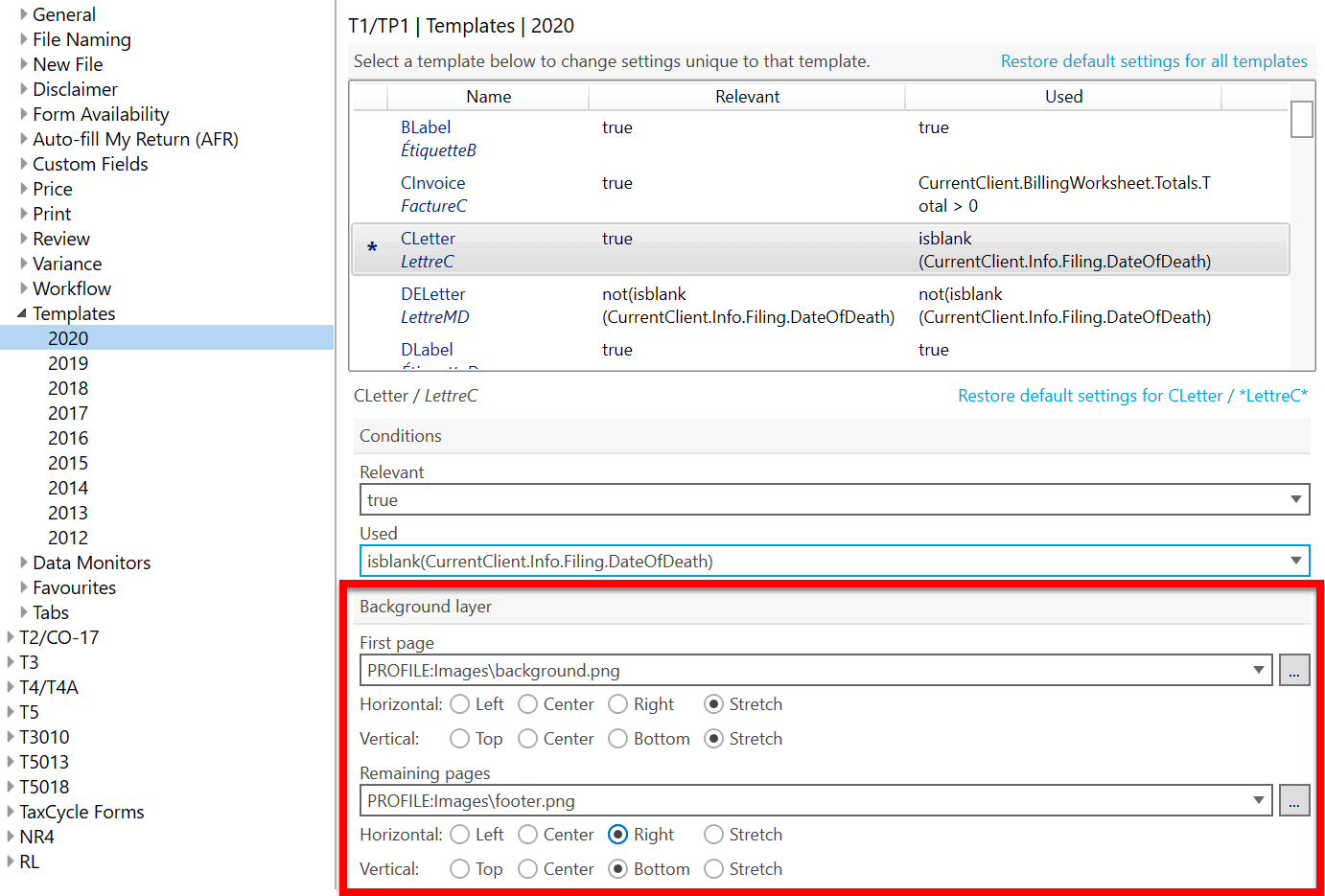 Other Customer Requests
TaxCycle T1
Guaranteed Income Supplement (GIS) amounts were updated to March 31, 2021, for 2020 returns.
Added a review message that displays when support payments (line 156) were reported in the prior year but not in the current year.
Added a review message to the T4RSP slip to warn the preparer when amounts in boxes 24 or 27 exceed the maximum allowable for Home Buyers' Plan (HBP) or Lifelong Learning Plan (LLP), and no excess amounts are reported in box 22.
Added Ontario Trillium benefit amounts to the Ontario 428 5YearSummary.
TaxCycle T2—Schedule 3 Part 1 table column I.1: description
Column I.1 is to calculate amount 2E in Part 2 according to ITA subsection (ii) under the definition of "eligible refundable dividend tax on hand" (ITA 129(4)(b)(ii)).
A more detailed description has been added to column I.1.
Note 5 in Part 2 has also been revised.
TaxCycle T2—T106 Summary: new exchange rate field
A new on-screen only field has been added at the top of T106 Summary.
If an election has been made to use functional currency to prepare T106 summary and slips, the exchange rate can be added in the field. This new field is used to determine if the total of reportable transaction is more than $1,000,000,000 CAN.
TaxCycle T3—Form AUT-01 added
Given that information regarding T3 accounts currently cannot be accessed online, Form AUT-01, Authorize a Representative for Offline Access, must be mailed to CRA.
Forms AUT-01 and AUT-01X were already included in TaxCycle Forms and have both been updated to the latest version recently issued by CRA.
NR4
Filing deadline on the Engagement for NR4 was corrected.
T3010
Added review messages to check that total expenses are accounted for in the split between charitable, administration, and fundraising expenses.
Forms Module
GST66, Application for GST/HST Public Service Bodies' Rebate and GST Self-Government Refund, updated to latest version.