TaxCycle 10.0.41841.0—T3/TP-646, T5013/TP-600, T3010 (Revised)
The 2020 versions of T3/TP-646, T5013/TP-600 and T3010/TP-985.22 are ready for filing.
Get this version as an automatic update, full download from our website or a free trial. (To deploy auto-update files from your network, see the Auto-Update Files page.)
Release Highlights
Revisions
January 26, 2021—We released an update with the following changes since version 10.0.41833.0:
Auto-update is now available.
Class 14.1 in TaxCycle T1 and T3: The check box AND the question related to the Eligible Capital Property for a QC rental property on the T776 form now display correctly.
Class 14.1 in TaxCycle T3: A review message specific to Class 14 (beginning cost, date acquired and date expires) no longer appears for Class 14.1 assets on the T776 form.
AuthRepBus: The telephone country code now defaults to "1".
T3 and TP-646 for 2020
TaxCycle T3 is certified for filing by the Canada Revenue Agency (CRA) and Revenu Québec. You can now prepare T3 and TP-646 returns for 2020. Although many of the changes are cosmetic, they also include final rate and threshold updates. We also added the following forms:
T3F Investments Prescribed to be Qualified Information Return.
T3-DD Direct Deposit Request for T3.
T1262 Part XIII.2 Tax Return for Non-Resident's Investments in Canadian Mutual Funds.
T5013 and TP-600 for 2020
TaxCycle T5013 and TP-600 are ready for filing 2020 returns. This release includes updated forms and the new Schedule 58 for the Canadian Journalism Labour Tax Credit.
T3010 Certified for Year Ends up to Dec. 31, 2021
TaxCycle T3010 is certified for filing by the CRA using the latest updates. You can now prepare returns with year ends up to December 31, 2021.
Forms updated in this release include the T3010 return, T1235, T1236, GST66, RC7066 and T1240. Most changes were purely cosmetic. The only notable change was the removal of parts related to Public policy dialogue and development activities, Section C, question C5 and Schedule 7, from the new version of the T3010.
Revenu Québec did not require changes to the Québec TP-985.22, so it remains valid for filing.
Adding COVID-19 Codes 57 to 60 to T4 Slips
When carrying forward a T4 return from 2019 to 2020, TaxCycle now automatically answers Yes to the question on the Info worksheet that adds the COVID-19 codes 57 to 60 to all new T4 slips only.
A new review message on the same field on the Info worksheet provides a Quick Fix message to Add COVID-19 "Other information" boxes to all existing slips. This allows you to quickly add the boxes to all slips carried forward from the prior year.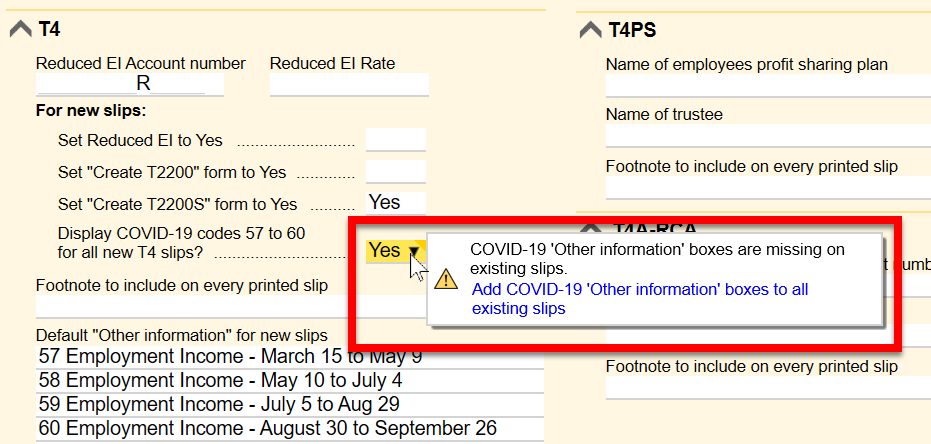 Please remember that the CRA limits the number of boxes on a slip to six boxes per slip. If more than six codes apply to the same employee, create an additional T4 slip in TaxCycle. TaxCycle does not create this additional slip automatically.
Do not repeat all the data on the additional slip. Enter only the employer's name and address, and the employee's name and SIN, and complete the required boxes in the "Other information" area. Report each code, and amount only once. You can enter a note in the Footnote field on the slip to indicate it has two parts.
If a T4 carried forward from 2019 already has "Other information" boxes, TaxCycle will only add as many of the COVID-19 codes as there are available blank rows on that slip. You will need to create a new slip for the excess boxes. Before creating the new slip, we suggest changing the COVID-19 question on the Info worksheet back to No and remove any of the other default additional boxes. Otherwise, you will need to remove those before adding the remaining boxes to the second slip.
Creating a second slip will trigger a review message alerting you to a duplicate social insurance number. Once you verify the data is correct, sign off this review message.
CCA Class 56 Added to T1, T2, T3 and T5013
This release adds capital cost allowance (CCA) class 56 to TaxCycle T1, T2, T3 and T5013.
Class 56 provides a temporary enhanced first-year CCA rate of 100% in respect of eligible zero-emission automotive equipment and vehicles that currently do not benefit from the accelerated rate provided by classes 54 and 55. It applies to eligible zero-emission automotive equipment and vehicles that are acquired on or after March 2, 2020, and that become available for use before 2028, subject to a phase-out for equipment and vehicles that become available for use after 2023. 
For more details, see the Department of Finance news item Business Investment in Zero-Emission Automotive Vehicles and Equipment.
Updates to TaxCycle T1/TP1
The following changes were made to TaxCycle T1/TP1 for 2020:
Updated form T183 to the 2020 version.
Added form T185, moving the section for Pre-Authorized Debit from the previous T183 to this new form.
Added a T185 cover email to allow for electronic signature.
Added review messages to the T777S to guide you through choosing the related options for completing the form.
New

ContractPayments Worksheet

This release adds the new ContractPayments worksheet to TaxCycle T1. You can find this worksheet in the Slips category in the Prepare sidebar.
Use this worksheet to enter contract or government payments reported on the T5018, T1204 and RL27.
TaxCycle also imports data into this worksheet for T1204 slips downloaded from CRA Auto-fill my return (AFR) and RL-27 slips downloaded from Québec Tax Data Download (TDD).
At the bottom of the worksheet, select the reporting method, whether to transfer to a T2125, transfer directly to line 13500, or not to transfer because the income is already accounted for.
If you choose to transfer to a T2125, a review message will prompt you to select the T2125 statement.
If you choose to report the income directly on line 13500, a review message will prompt you for the Industry Code (NCAIS).

Save Summary Columns
You can now save your columns for slips summaries and other tables that allow customization. (See the Slips Summary help topic to learn how to configure columns on these types of summaries.)
Once you set up the columns as you like them, right-click on the column heading and select Save default columns for [summary name].
Column settings are saved separately for each form. For example, configure and save the columns on the T4Slips summary and those for the T4ASlips summary separately.
Once you save the default columns, TaxCycle will use the settings for each file you open.
To restore the default columns that came with TaxCycle, right-click on the column heading and select Revert to default columns.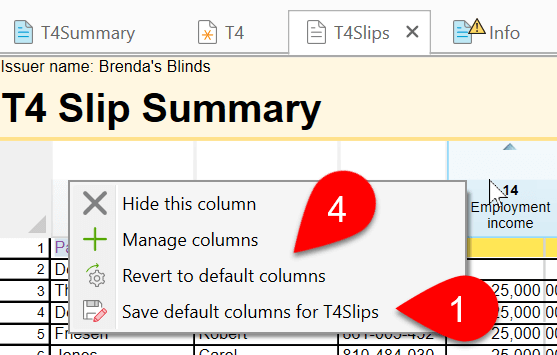 You can also include column settings in an Options Profile by pointing to the path on the Summary Columns page under Files and Folders in options to your Options Profile. (Learn how to do this in the Move Settings and Templates into Options Profiles help topic.)
Resolved Issues
T4—T2200S print set not showing in the Print sidebar.

Customer Reported

T1—Signature for Pre-Authorized Debit requested on a T183 when not required.

Customer Reported

Crash when using "Save As" to save a file with an invalid initial directory.

Customer Reported

Issue where "Delete all zero rows" did not allow new data entry without refreshing the screen.