TaxCycle 10.1.42835.0—Optional Download Release
This TaxCycle release contains optional enhancements and fixes. You should install this release if you would like to try out a new feature, or if you need a change included in this release.
This release is only available as a full download from our website. We will include the following changes in an automatic update after the T1 filing deadline at the end of the month. (To deploy auto-update files from your network, see the Auto-Update Files page.)
T1 Updates
Updated amounts for the GIS worksheet valid to June 30, 2021.

Resolved

Exception generated in family files that contain coupled dependants and where one of those dependants died during in the tax year. Previously, the only workaround was to detach one of the dependants from the family file. 
T2/CO-17/AT1 Updates
CO-771—To ease the tax burden on small businesses, the current 7.5% small business deduction rate will be increased to 8.3% for days in a tax year after March 25, 2021. In CO-771, if a corporation's tax year includes March 25 and 26, 2021, the small business deduction rate will calculate according to the budget on line 237.
CO-1029.8.33.6—The tax legislation will be amended to increase the tax credit rate for "On-the-job training tax credit" for qualified expenditures incurred after the day of the budget speech and before May 1, 2022, in respect of a qualified training period beginning after the day of the budget speech. The basic rate of the tax credit is increased from 24% to 30%. Where the eligible trainee is a disabled person, an immigrant, an Aboriginal person or where the on-the-job training takes place in an eligible region, the tax credit rate is increased from 32% to 40%.

Resolved

AT1 line 043 exchange rate—The rate on line 043 in AT1 is calculated from the exchange rate on the Info worksheet. The exchange rate is now calculated as the functional currency rate converted to Canadian dollars. For example, if a $1 US = $1.2571 Canadian then line 043 must be $1.2571.
When a corporation's specialty type is a credit union, columns J and K in Part IV tax in Part 1 table on Schedule 3 no longer calculate as a credit union that is deemed not to be a private corporation.
TaxFolder Document Sharing
This TaxCycle release includes the ability to share documents with your clients directly from TaxCycle. For step-by-step instructions on using this new feature, see the Share Documents With Clients via TaxFolder From TaxCycle help topic.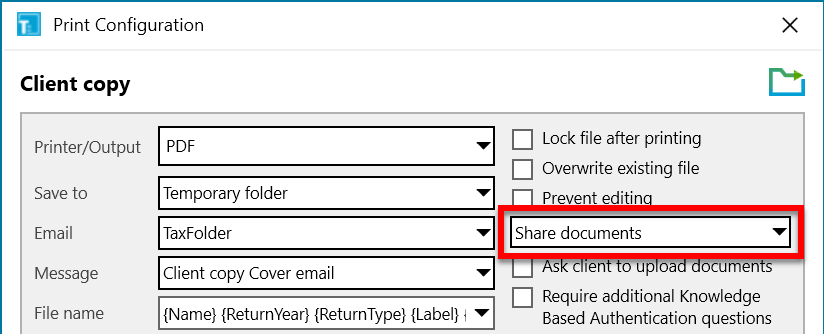 Customer Requests
CCA—Added class 36 to TaxCycle T1, T2, T3 and T5013.
Resolved Issues
T5013—Correction on RL-15 where the recipient type for non-resident partners was incorrectly reported in the XML file.
TaxFolder—When files are downloaded after they are signed, the file name extension now includes completed.pdf.