TaxCycle 9.1.39221.0—Automatic Update
Revisions Included in the Automatic Update
The automatic update for this version includes:
The changes, below, from version 9.1.38916.0, made available on May 14, 2020, as a full download from our website.
The changes from version 9.1.38833.0, made available on May 5, 2020, as a full download from our website.
A correction to Notes pages that were causing errors when first displayed.
This release adds support for DocuSign® electronic signatures on more forms and includes other changes requested by TaxCycle customers.
Get this version as an automatic update, a full download from our website or a free trial. (To deploy auto-update files from your network, see the Auto-Update Files page.)
Release Highlights
Updates to DocuSign® Electronic Signatures
We added support for DocuSign® electronic signatures to the following forms in TaxCycle T1/TP1 2019:
T1032 Joint Election to Split Pension Income for 2019
T1255 Designation of a Property as a Principal Residence by the Legal Representative of a Deceased Individual
TP-274 Designation of Property as a Principal Residence
T1-ADJ T1 Adjustment Request
T1-DD Direct Deposit Worksheet
New!

Data Monitors in Slips Returns

The 2020 TaxCycle slips modules (T4/T4A, T5 and T5018) include a new data monitor that displays a count of the original (O), amended (A) and cancelled (C) slips.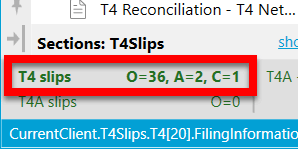 To add this data monitor to your window:
Open a 2020 T4/T4A, T5 or T5018 return.
Right-click in a data monitor cell at the bottom of the window.
Select Presets.
Choose T4 slips (or the type of slips you want to monitor).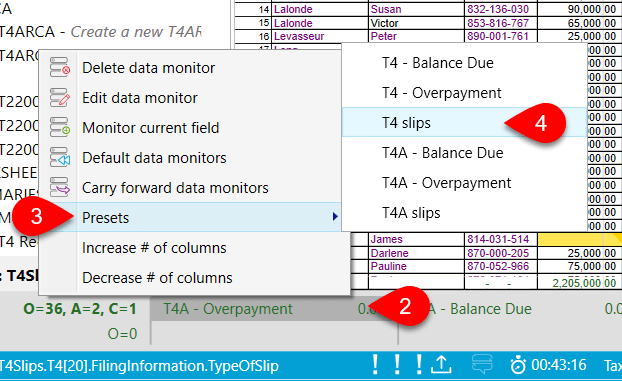 New!

Design for Info and Engagement Worksheets

This release debuts a new design for Info and Engagement worksheets in all 2019 TaxCycle modules, and in 2020 slips modules. (We hope you like it!) Over the coming months, we will roll out similar design changes to other worksheets and slips across TaxCycle.

Fields in the Dates section on the Engagement worksheet now also link with the related workflow tasks:
The Workflow Due Dates set the expected date for completing the related group.
The Completion dates list the dates when the preparers or reviewers completed the tasks.

Resolved Issues
T1—Education amount not calculating on S11MJ forms for other applicable provinces in a multi-jurisdiction return when the province of residence is any of New Brunswick, Ontario, Saskatchewan or British Columbia.
T1—Added a review message for cases where the client received 94% or more of the annual maximum federal supplements and the user has not indicated that the client had the right to free prescriptions throughout the year.