TaxCycle version 8.2.35608.0—2019 T1/TP1 preview
This TaxCycle release offers a preview of 2019 T1/TP1 rates and forms. It also includes other changes and resolved issues.
Get this version as an automatic update, a full download from our website or a free trial. (To deploy auto-update files from your network, see the Auto-update files page.)
Release highlights
2019 T1/TP1 preview rates and forms
The new TaxCycle T1/TP1 2019 module includes preview forms, rates and calculations for 2019 personal tax returns. Use this module for planning and evaluation purposes only.
The government forms you see in the TaxCycle T1/TP1 2019 module are the 2018 forms updated to include 2019 indexed amounts announced or estimated, based on the information we have at this time and budget changes.
What you need to know:
Returns prepared with TaxCycle T1/TP1 2019 are not certified for filing with the CRA though you may choose to use them to prepare and file a deceased taxpayer's return.
All forms show a Preview watermark on screen and when printing.
If you have purchased a 2019 TaxCycle license, you can prepare a 2019 T1 return for a deceased taxpayer by entering the date of death on the Info form. The Preview watermark will be removed. You can print and paper-file the return with the CRA using the T1Condensed return, even though the bar code does not show.
EFILE is not available for 2019 tax returns until February 2020.
You can carry forward 2018 T1/TP1 returns from TaxCycle®, ProFile® and Cantax®. Carry forward functionality for Taxprep® and DT Max® will be available later. Please remember, all carry forwards are currently under review and may be updated for the coming season.
Files you create now will continue to work after the module receives certification from the CRA.
To learn how to create planning files, review the following help topics:
Planning files and the planner worksheet
Improvements to T2 Schedule 54 Part 4
Additional fields were added to Part 4 of Schedule 54 in TaxCycle T2 for prior-year opening losses and losses utilized in the prior year. Upon carryforward, prior-year values are inserted into these new fields.
Complete the Date an adjustment was made field to calculate the values carried forward on lines 3 through 13.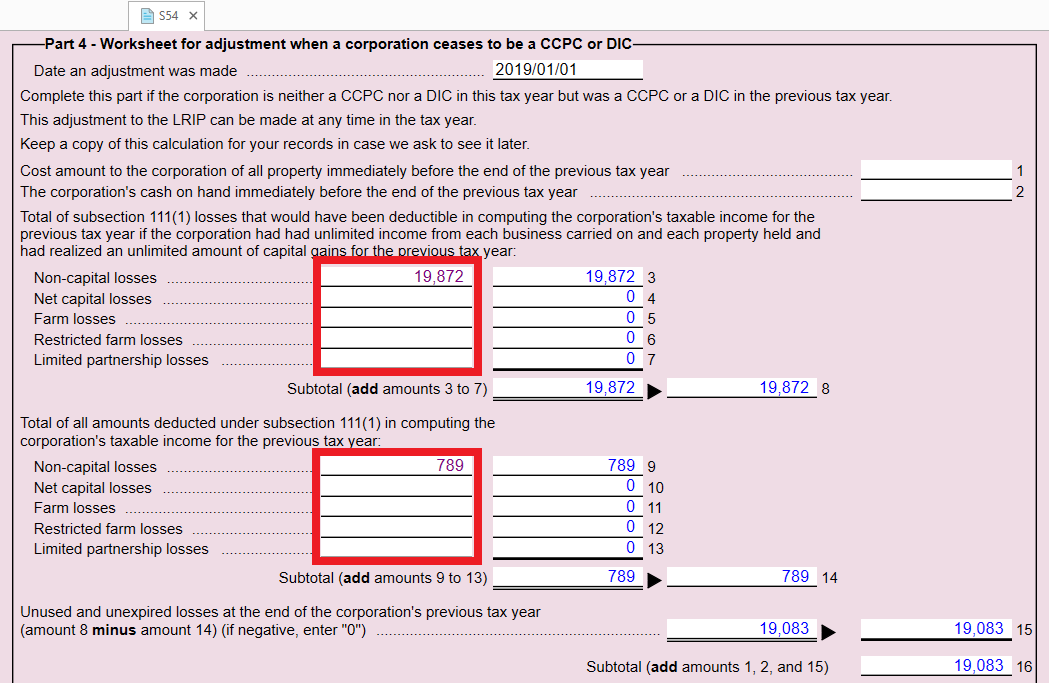 Customer reported/requested
T776: line highlighting added in the expense section.
Immigrant WS: foreign exchange calculation added for world income.
TSlip: footnotes section added for T3Slip and T5Slip to allocate interest expense and carrying charges to principal taxpayer and spouse, if applicable.
T1 summaries: 2 and 5 year summary have been added for the T777 in 2019.
Resolved issues
Upcoming 2019 T1 items in future releases
Enhanced CPP contributions claimed as a deduction on the T1 rather than as a non-refundable credit on Schedule 1
T657 and T2017 require addition of an additional year
CCA classes 54 and 55 for zero emission vehicles
Climate action incentive (Schedule 14) amounts for 2019 and addition for Alberta
Ontario low-income individuals and families tax credit
Ontario child care access and relief from expenses tax credit