TaxCycle version 8.2.35679.0—T2 Auto-fill
This TaxCycle patch addresses the handling of error messages returned upon transmitting Québec CO-17 returns or downloading data from T2 Auto-fill. It also includes various other small enhancements.
Get this version as an automatic update, a full download from our website or a free trial. (To deploy auto-update files from your network, see the Auto-update files page.)
Release highlights
CO-17 Online Filing Error: Object reference not set to an instance of an object
This patch resolves an issue with displaying the response to a Québec CO-17 Online Filing transmission. When a CO-17 return was transmitted from TaxCycle T2, the error message "Object reference not set to an instance of an object" was received, but it did not provide details of the error. This issue has been corrected and TaxCycle now properly displays full Revenu Québec error messages.
If you have experienced this issue, click Dismiss results and start again in the sidebar to transmit again and receive the full response message.
T2 Auto-fill download error handling
The Canada Revenue Agency (CRA) has told us that if you receive this type of error message, there is an issue with the CRA system and we should inform them. If you receive this error, please contact TaxCycle support.
We have addressed an issue reported on protaxcommunity.com related to T2 Auto-fill downloads that fail to complete. While this is an issue with the data received from the CRA, we have implemented the following items to help address the issue in TaxCycle:
TaxCycle now displays the detail of the error received from the CRA.
An error can be related to one of four system issues from the CRA related to:

the .cor file
T2 balances (T2 return balances such as RDTOH, GRIP, etc.)
accounting balances (corporate account balances)
business number and address (corporation business number data)
For example, if an error code is "T2 balances", TaxCycle now displays the following error message: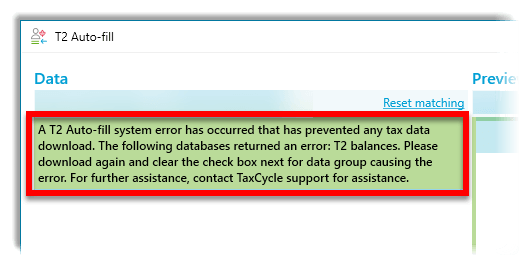 If you encounter one or more of these four error messages:
Click the Download again button to re-start T2 Auto-fill.

Clear the check box that suggests using the prior download.

Click Next.
When you get to the step that allows you to select which data to download, clear the check box next to the type of data mentioned in the error. If the error mentions the:

The .cor file, clear the top two boxes.
T2 balances—such as RDTOH, GRIP, etc.—clear the check box next to T2 return balances.
Accounting balances/corporate account balances, clear the check box next to Corporation Account Balances.
Business number address/corporation BN data, clear the check box next to Corporation BN data.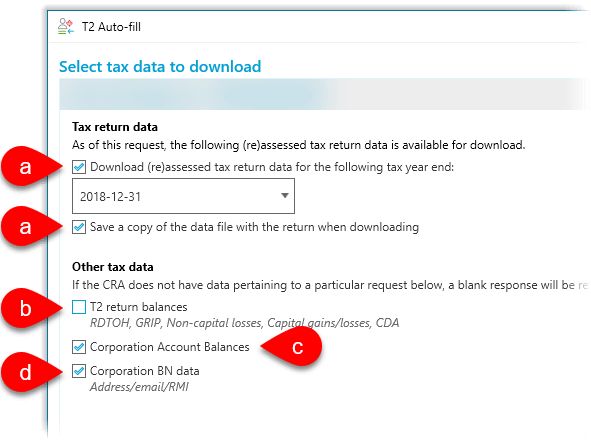 Nunavut lower tax rate reduced to 3% for number of days in a tax year on or after July 1, 2019
Nunavut tabled Bill 26 in May 2019 that contained a measure to reduce the small business tax rate to 3% (from 4%) for the number of days in the tax year that fall on or after July 1, 2019. The TaxConstants worksheet and Schedule 481 in TaxCycle T2 have been updated to reflect this change.
Changes to TaxCycle T1 2019
Customer Suggestion

New fields for entering Carrying Charges (interest and management fees) were added to the T3 and T5 slips in TaxCycle T1 2019. The amounts transfer automatically to the Schedule 4 worksheet.
The NBS11 has been updated to bring back the tuition amount for tuition paid for 2018, per the New Brunswick budget bill that passed in early June.
An Alberta version of Schedule 14 has been added per this announcement by Finance Canada: https://www.fin.gc.ca/n19/data/19-062_1-eng.asp
T2017 and T657 have been updated to add support for 2018 eligible reserves and taking new reserves for 2019 on those same dispositions. (This includes a method to hide parts of section 3 of form T657 for which no applicable reserves are included in income.)
T1013 transmission has been corrected to set the form version to 2018 to allow transmission of the T1013 from this module. The 2019 form will only become available in early 2020.
This release corrects an issue with the 2018 to 2019 TaxCycle to TaxCycle donations carryforward. Donations made in the years prior to 2018 that were carried forward to 2018, but not used in 2018, were not being carried forward again to 2019.
Enhancements to T2, T3, T4, T5 and Forms Collection
Customer Suggestion

A new field for entering the GST/HST access number was added to the Filing section on the Info worksheet in TaxCycle T2.
The calculation and description for amount Z on page 7 of the T2 jacket have been updated to the CRA's final version of the T2 jacket.
The privacy statement on page 8 of the T2 jacket has been updated.
The Interest and Penalties worksheet has been added to the latest TaxCycle T2 module and to TaxCycle T3 2019.

Customer Suggestion

A due date field was added to the Info worksheet in TaxCycle T4 and T5.
The Québec form TP-1086 Costs incurred for work on an immovable was added to TaxCycle Forms.