RESOLVED: TaxFolder Not Completing Signed Documents
We have received reports that TaxFolder does not always trigger the completed signature/approval email and produce the signed/approved documents. This issue affects only a small number of the documents sent for signature or approval.
Workaround
Please do not resend the document for signature. We have a way to manually trigger the completion email and signed/approved documents. Send us the document ID and we will trigger the completion.
To copy the document ID:
Go to the Client Dashboard and open the engagement for the client.
Find the request in the

 

Approvals and Signatures

section.

Click on the drop-down arrow beside the View Original button.
Select Copy ID.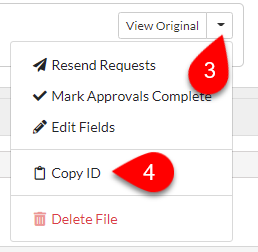 Resolution
This issue was fixed in the latest TaxFolder update.