TaxFolder Update (February 23, 2022)
On February 23, 2022, we deployed an update to www.taxfolder.com. This update includes enhancements to the client portal and several other customer-reported resolved issues.
Release Highlights
Client Portal
Updated Documents tab names to clarify what each tab contains.

Customer suggestion

Added recommended guidelines for file uploads, including supported formats, resolution, and file size.

Client Dashboard
Added an Expired status to Engagement view to show when a document request link has expired.


New Added a new Failed document status to show when there was a processing issue with the signature or approval request. If you have a failed document, please contact support so we can help troubleshoot and apply fixes where necessary.

Notifications Settings
Added new settings to the Notifications Settings to allow you to:
Disable the notification to the preparer when assigning a client or engagement.
Disable the account activation email which invites your client to use the TaxFolder portal.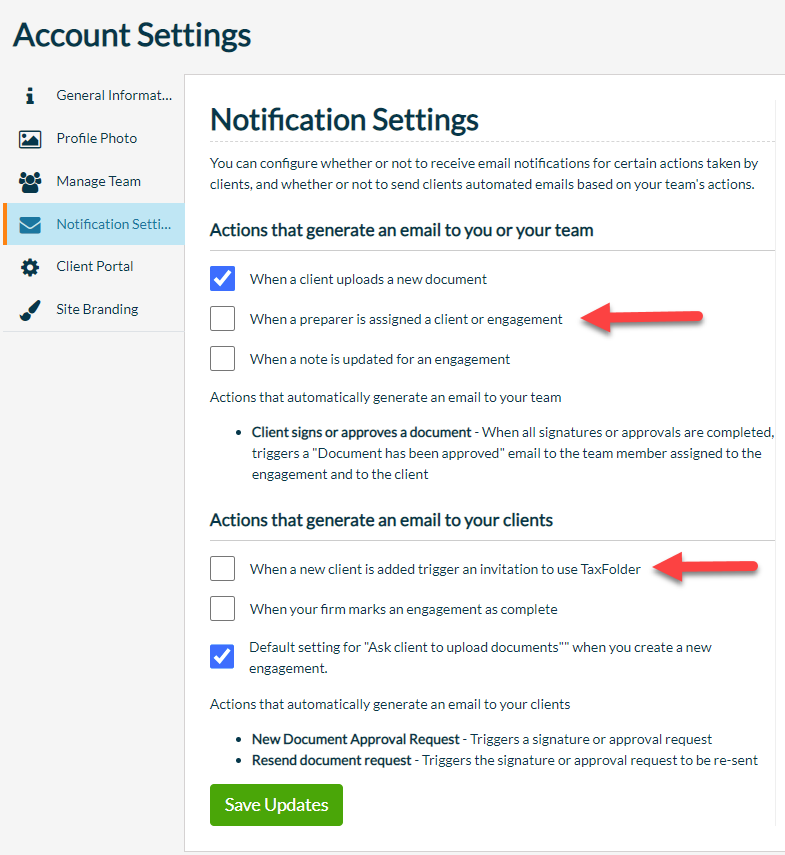 In TaxCycle, a new check box in printer and pdf output options allows you to Invite a new client to TaxFolder.
This check box works together with a Notification Setting. Both must be enabled for new clients to receive an email invitation to create an account in TaxFolder, triggered by a request from TaxCycle.
Check this box to send an email invitation to a new client, asking them to activate their new TaxFolder account.
Clear this box to prevent the email invitation and only send an email requesting signature or approval of a document.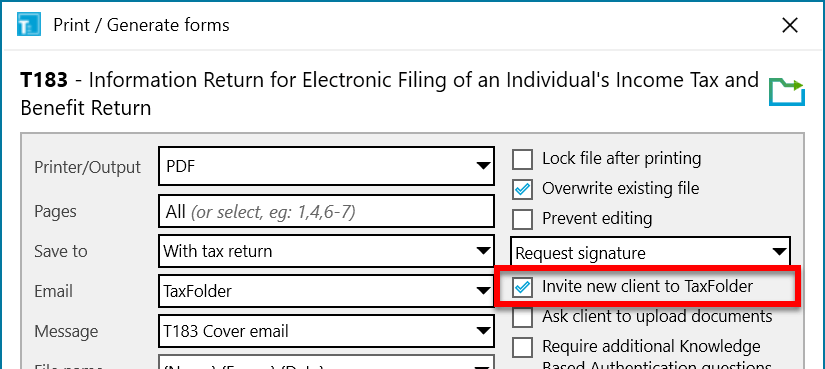 Added a new check box to enable or disable sending the email asking the client to upload documents, when creating a new engagement. This controls the default for the box on the Add Client and Add Engagement screens. Regardless of the default setting, you can still check or clear the box when adding the client or engagement.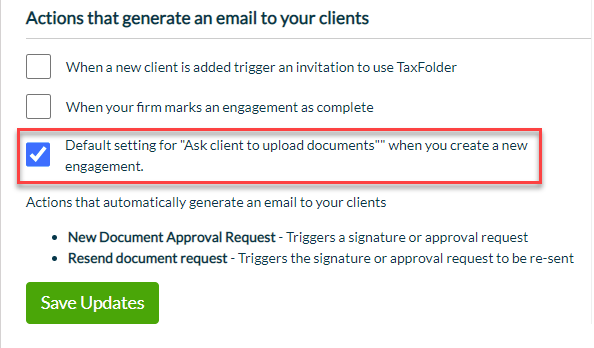 Client Portal Settings
A new Client Portal page in Account Settings allows you control which actions are available to your clients.
The new Allow clients to upload files setting allows you to hide Documents tab in the Client Portal, preventing document uploads. If you clear this check box, your clients can still access Signature/Approval Requests and documents shared with them in the Preparer Files tab.
To hide My Documents tab and prevent document uploads:
Clear the Allow clients to upload files check box.

To hide the Documents tab for ALL existing engagements, check Apply this setting to all existing engagements tied to this firm. This does not delete any files previously uploaded; you can retrieve them on the engagement in the Client Dashboard. It only hides them from the Client Portal.
Click Save Updates.

A new option under the Engagement Settings button on the engagement page allows you to selectively enable client file uploads for specific engagements.


Frequently Asked Questions (FAQ)
Resolved Issues
Customer Reported

Fixed HTTP 200 error unable to create client.

Customer Reported

Fixed TaxFolder homepage not rendering well in Safari.
Adjusted sensitivity on the Zoom function for the Preparer Profile photo to make it easier to select the zoom level.

Customer Reported

Fixed a bug that allows an engagement year-end to have a five-digit year when using Firefox.
Improved error messaging for Add Client, Add Engagement and Add Team Member.

Customer Reported

Fixed unspecified error related to Client File uploads of .QBB and .QBM QuickBooks files

Customer Reported

Fixed signature disappearing in the signature box on a mobile phone when rotating between horizontal and vertical views.
Minor updates to make document processing more robust.

Customer Reported

Fixed unspecified error when trying to mark a client file as Used in some instances.