TaxFolder's Second Year
TaxFolder's second year was a big one. Armed with your feedback, we built even more value into TaxFolder. In case you missed reading the release notes, here's a full list.
Technology Upgrades
Beyond the list of changes you can see, we worked hard this season to make TaxFolder's underlying technology more effective. This included:
Back-end updates to improve document processing, reliability, and stability.
Technology updates to improve security, scaling, and reduce bottlenecks.
Technology updates to improve issues related to caching.
Improved handling for clients that have relationships with multiple firms in TaxFolder.
Improved performance of uploading documents to TaxFolder.
Client Portal
Added a button in the client portal document upload screen to allow clients to alert you when they finish uploading all the required documents. Clicking the I'm Finished button sends an email to the preparer assigned to the engagement to show that it is ready for processing.

Updated Documents tab names to clarify what each tab contains.

Added recommended guidelines for file uploads, including supported formats, resolution, and file size.

Client Dashboard
Notifications Settings
Added new settings to the Notifications Settings to allow you to:
Disable the notification to the preparer when assigning a client or engagement.
Disable the account activation email which invites your client to use the TaxFolder portal.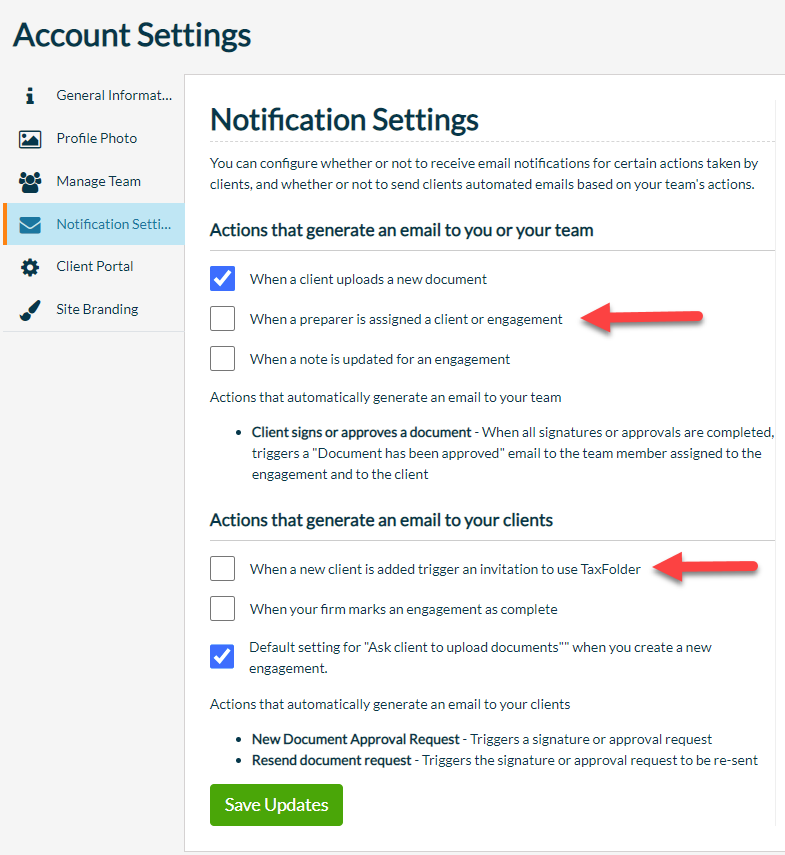 In TaxCycle, a new check box in printer and pdf output options allows you to Invite a new client to TaxFolder.
This check box works together with a Notification Setting. You must enable both for new clients to receive an email invitation to create an account in TaxFolder, triggered by a request from TaxCycle.
Check this box to send an email invitation to a new client, asking them to activate their new TaxFolder account.
Clear this box to prevent the email invitation and only send an email requesting signature or approval of a document.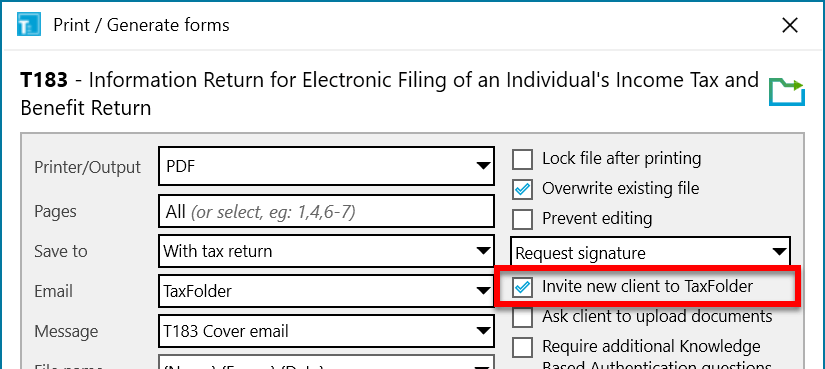 Added a new check box to enable or disable sending the email asking the client to upload documents when creating a new engagement. This controls the default for the box on the Add Client and Add Engagement screens. Regardless of the default setting, you can still check or clear the box when adding the client or engagement.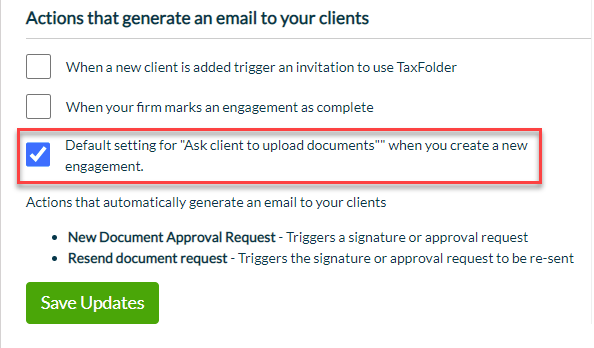 Client Portal Settings
A new Client Portal page in Account Settings allows you control which actions are available to your clients.
The new Allow clients to upload files setting allows you to hide the Documents tab in the Client Portal, preventing document uploads. If you clear this check box, your clients can still access Signature/Approval Requests and documents shared with them in the Preparer Files tab.
To hide My Documents tab and prevent document uploads:
Clear the Allow clients to upload files check box.

To hide the Documents tab for ALL existing engagements, check Apply this setting to all existing engagements tied to this firm. This does not delete any files previously uploaded; you can retrieve them on the engagement in the Client Dashboard. It only hides them from the Client Portal.
Click Save Updates.

A new option under the Engagement Settings button on the engagement page allows you to Enable Client File Uploads for specific engagements.


TaxCycle Client Menu
We added new items on the Client menu allow quick access to TaxFolder functions:
Go to TaxFolder opens a browser and goes to www.taxfolder.com
Send current form for signature becomes active if the current form supports electronic signatures. Click it to open the Print Form dialog and select TaxFolder as the e-signature provider.
Check signature status checks for notifications from TaxFolder or DocuSign®. This is the same as clicking on the Notification Status icon on the status bar.
Forms with signatures opens the Prepare sidebar and selects the Signatures view to list all the forms with e-signature fields.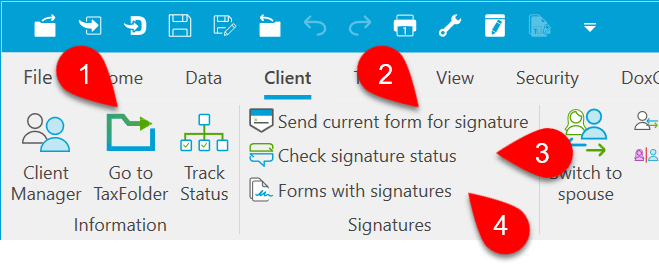 Other Requests
Added support to incorporate the message template for Share Documents when sending from TaxCycle.
Updated the default tax year to 2021 for T1, T3, T3010, and Slips and Forms when creating an engagement in TaxFolder.
Added the ability to assign the preparer when creating a new engagement.
Added a new message to alert users if their browser needs updating to support TaxFolder electronic signatures.
Changed the default for completed signatures or approvals on the engagements in the Client Dashboard to show as Download Completed instead of View Original.
Disabled the ability for clients to upload documents to Completed engagements.