TaxFolder Update (June 20, 2022)—Event History
On June 20, 2022, we deployed an update to www.taxfolder.com. This update adds an event history page, improves error handling and addresses recent customer suggestions and reported issues.
Release Highlights
New!

Event History

You can now view a history of TaxFolder events related to your firm:
Click History in the sidebar to see a list of TaxFolder events related to your firm.
Type a Target ID for a document, engagement or client to display all events relating to that ID.
Select from the drop-down list to filter results by date, preparer, category or event.
Click the plus button to see more details about the event including the Event name, Target ID and Email address.
Click the button next to the History page title to Copy, Print or Export the history to Excel or CSV.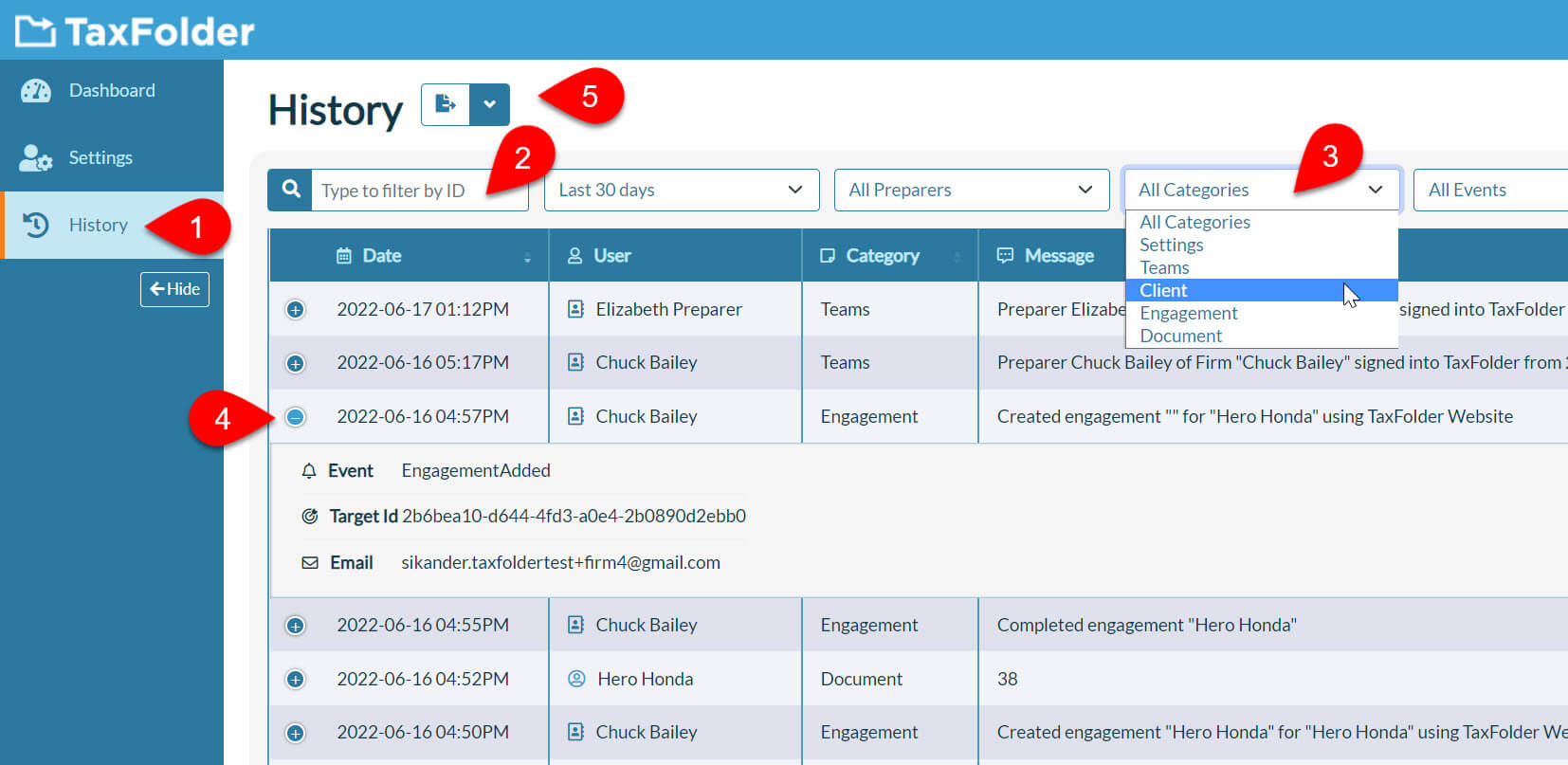 Error Handling
This release improves error handling across TaxFolder. This includes creating a consistent look for errors and providing a way for both preparers and their clients to send error reports to TaxFolder support when necessary.
If you see an error message within the Client Dashboard:
Click Show Details to expand the error message.

Click Send Details to send the error report to TaxFolder support.

If your client encounters an error while trying to sign or approve a document that they cannot resolve with your help, you can tell them to:
Click the message icon at the top right of the window.
Click Send Details to send the information to TaxFolder support.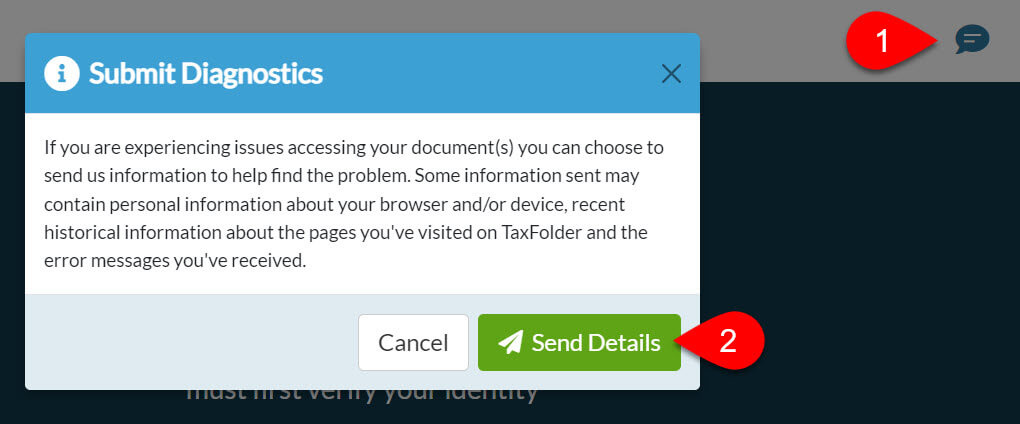 Note: We do not provide technical support directly to your clients through our phone lines or email. Please attempt to resolve any errors with your clients before asking your client to submit diagnostic information.
License Verification
We improved the messaging when a client tries to sign in to TaxFolder and the firm's license has expired. Clients will now see a message that says: "Access to this TaxFolder account is no longer available. Please contact [FirmName] at [FirmNumber]."
Customer Suggestion
Updated the document links in all emails to show as from mailing.taxfolder.com instead of from sendgrid.com.
Resolved Issues
Fixed an issue where error handling and SMS verification were broken in cases where the user's browser added a trailing forward slash / to the document link when accessing a signature request.
Fixed an issue where typing extra digits in the SMS verification field or the phone number field triggered multiple SMS messages, causing a timeout error because the message was sent too many times.
Added a delay on the Resend SMS button, after entering the phone number to prevent accidentally clicking resend, when moving to the SMS verification field.
Disabled link tracking in signature request emails for everything except document links. Engagements will now show the email status as clicked only once the document link is clicked.
Added a one-hour session timeout for client signature and approval requests, after which the client must go through the validation steps again to reopen the document.
Fixed an issue where the web site could crash due to a database problem that caused a spike in CPU usage.
Added additional validation to document processing to reduce the number of instances where documents fail to complete correctly.
Fixed an issue where clients saw a page that suggested they return to taxcycle.com or protaxcommunity.com after signing out.
Updated the reference library for devices to better detect when JavaScript is disabled and when the browser is out-of-date.
Added additional logging support and audit trail.