Updated: 2020-07-20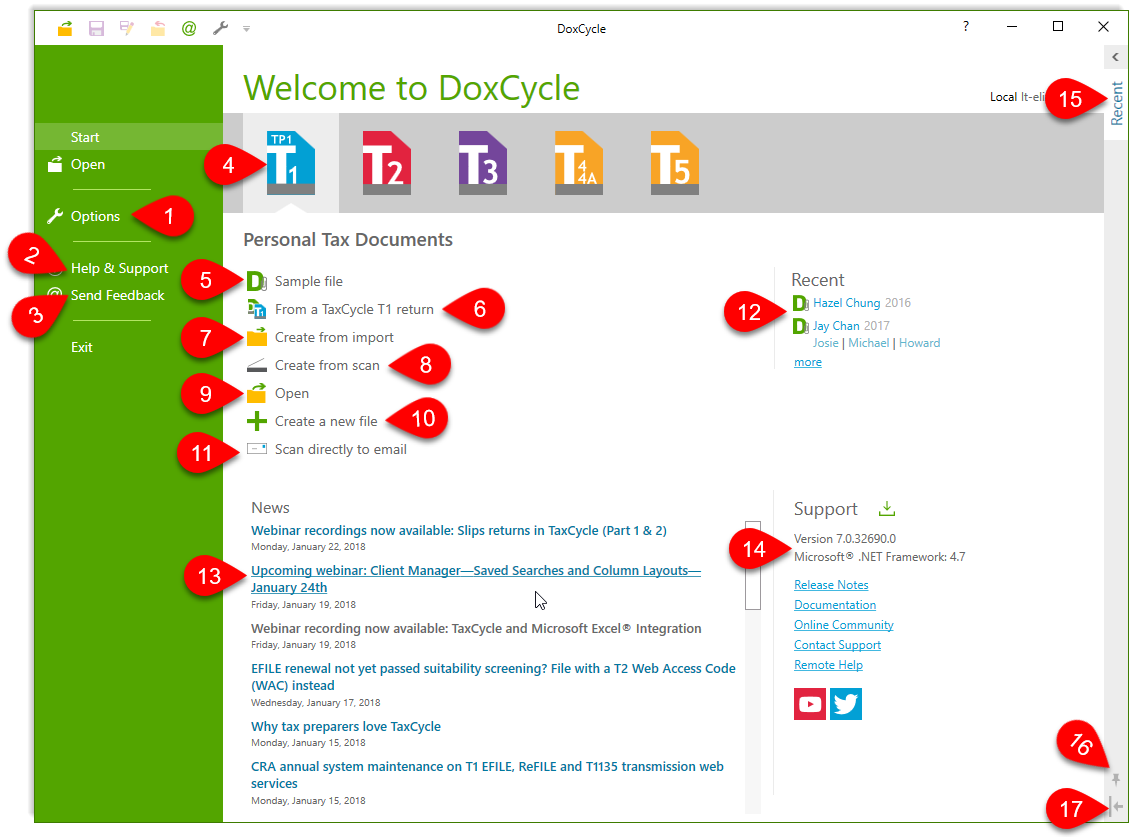 When you first open DoxCycle, you will see the Start screen. Here's a quick tour to get you started:
Open DoxCycle's Options to set defaults for monitoring folders, organizing, scanning and saving files.
Click Help & Support and then click on My DoxCycle to see or update your license information.
Click Send Feedback to tell us what you think of DoxCycle.
Click on a tax return type to view actions related to that module. DoxCycle remembers the last module chosen when you close and reopen DoxCycle. You can create DoxCycle PDF files to store source documents for T1, T2, T3, T4/T4A and T5 returns.
Click Sample file to see an example of a DoxCycle file for personal tax documents.
From a TaxCycle T1 return—Create a new DoxCycle file from an existing TaxCycle return. DoxCycle takes the taxpayer information from the TaxCycle return and uses it to create sections for each taxpayer and the filename for the DoxCycle PDF. It also creates a link to the TaxCycle return.
Create from import—Begin the import of an existing source document to create a DoxCycle file. 
Create from scan—Begin scanning a document and create a DoxCycle file.
Open a DoxCycle PDF that is on your computer or on the network.
Create a new file—You must choose the tax year and enter the name of at least one taxpayer.
Click Scan directly to email quickly scan a document to the last selected scanner. DoxCycle scans the file, opens your default email program, creates a new message and attaches the file.
The Recent file list gives quick access to the last few files you worked on in the particular module. Click the more link to open the Recent sidebar.
Click on News headlines to read the latest from our blog. This is where we announce updates, news, webinars, tips and tricks.
The Support section displays the version number, license information, links to release notes, documentation, videos, our online community and social media. DoxCycle automatically checks for updates when you launch the program and will show any available updates here. Click the button to check for updates at any time. 
The Recent sidebar shows you a list of the last DoxCycle files you worked on, including both personal and corporate tax documents. 
A pinned (pin pointing down) sidebar stays open or closed, as you last left it. Unpin it (pin pointing left) and it opens only when you hover your cursor over it.
Click the arrow button to move the sidebar to the other side of the window, depending on your preference.