Updated: 2021-08-12
Create and modify label templates to use in batch label printing to a sheet of labels from the Client Manager, or when printing to a desktop single label printer.
Create a Label Template
In TaxCycle, go to the Tools menu and click on Template Editor.
Click New.
Check the years and modules to which the template applies. If the field codes are the same across years, you can choose multiple years for one template (learn more about this in the Multi-year Templates and Roll Forward help topic.)
In the Properties sidebar, enter a Name and Description for the template.
Select Label from the Type field.
Adjust the Margins required for your printer. These will only apply to the preview and final output.
Enter the Width and Height in inches of the label.
If required, choose a Rotation for your printer. TaxCycle does not display a preview of the rotation. Dymo printers require a 90 degree rotation.
Enter the field codes you need in the body of the label. (Check out the built-in label templates in the T1 module for ideas—such as BLabel or JBLabel—or start from a clone of one of those. To learn the basics of adding field codes, read the Template Editor help topic.)
Preview the results.
Save (Ctrl+S) the template.
Click Test Print in the menu to test the output of the label.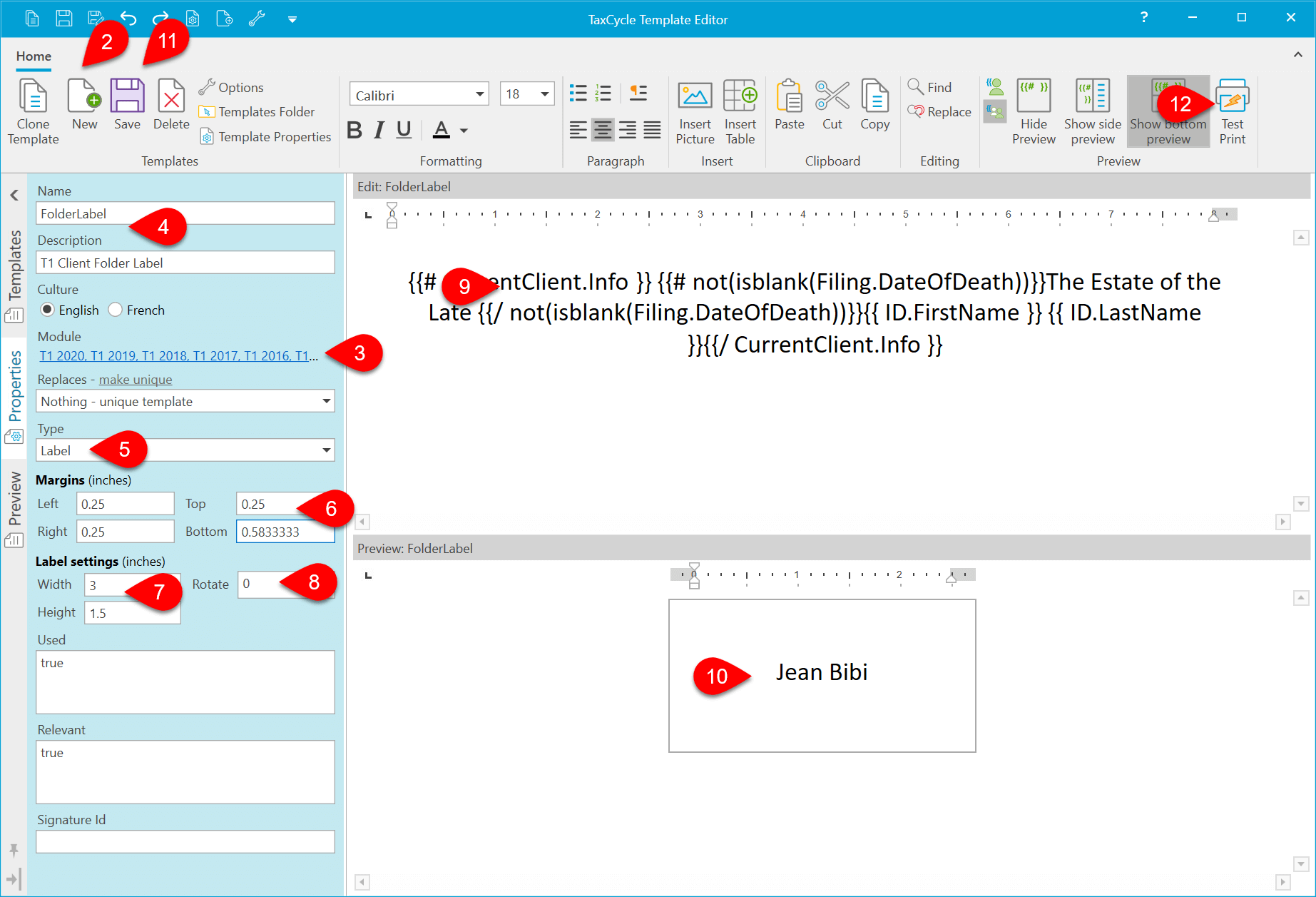 Create a Label Print Set
If you want to print a label on a label printer with every tax return, the best option is to create a separate print set. That way you can select the label printer in the Print set configuration and send it straight there.
To open Options from the Start screen, click Options in the blue bar on the left side. If you have a file open, go to the File menu, then click Options.
On the left side of the dialog box, expand the module (such as T1/TP1), then expand Print and click on the year you want to configure.
Scroll to the bottom of the list of print sets and then double click on the New print set name. Name the set Mailing Label, and drag it to wherever you want it to appear.
In the search box above the list on the left, type the name of the template you just created.
Drag the form to the list on the right.
Edit the printer/output to select your label printer. (Clear the options to print the date, time or instructions. For more information on printer settings, see the Print/PDF Options help topic.)
Click OK to save your changes.