Updated: 2020-07-24
Transmit Québec relevés (RL-1, RL-2, RL-3, RL-15, RL-16, RL-24, RL-31) to Revenu Québec using TaxCycle. The process for transmitting relevés to Revenu Québec is very similar to transmitting using TP1 NetFile.
Relevé transmitter options
Before you can transmit, you must enter your credentials in TaxCycle options:
If you have a file open, go to File menu, then click Options. To open Options from the Start screen, click Options in the blue bar on the left side. 
On the left side of the screen, expand Transmission and then click on Slips Credentials.
Enter the Relevé Transmitter number assigned by Revenu Québec. 
Enter Relevé Identification number assigned by Revenu Québec.
Complete the sequential numbers attributed by Revenu Québec.
Click OK or Apply to save the options.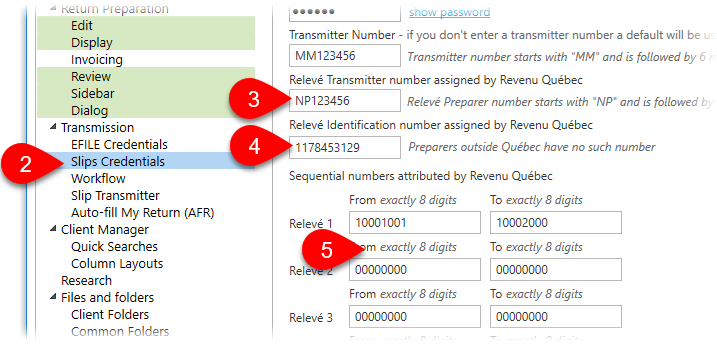 Resolve errors
Click on Transmit in the sidebar (or press F12).
For each type of return you can file, a box shows in the Transmit sidebar. In T4/T4A files, you may see boxes for RL1 Internet and RL2 Internet. In T5 files, you will see the RL3 Internet box. Click once in the box to expand it and see the filing status.
TaxCycle checks for errors that would prevent filing and displays them in this box. You can resolve many of them just like you would any other review message in the Review pane, or click the blue link in any message to jump to the form or field that needs attention.
Once you resolve all the outstanding errors, the box changes to show you that the return is Ready to transmit.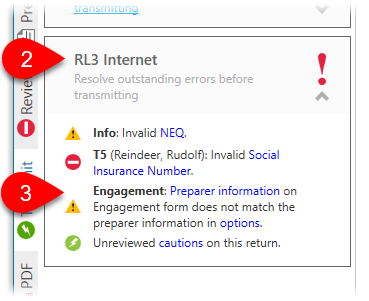 Ready to transmit
When a slip type is ready to file, it will say Ready to transmit and will show an icon with a blue arrow pointing upward.
Each slip type can have up to three states with the box: Original, Amended and Cancelled. Slips in each state must be transmitted separately. TaxCycle groups slips of each state in the transmit box and provides a Transmit now! link for each group.
Click a Transmit now! link to open the transmission window and connect to the CRA website.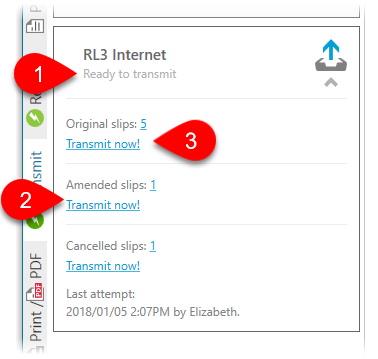 Transmission results
The filing box changes once again after a transmission attempt:
A green happy face appears to indicate a successful transmission (which for slips is tracked by entering a submission number). This confirmation number shows on the box.
If the transmission fails, a red sad face appears along with any error messages.
To see the full results of the successful transmission, click the Internet file worksheet link to open the Internet worksheet.
To transmit Amended or Cancelled slips, click the link in the text, or click Dismiss all CRA message and start again.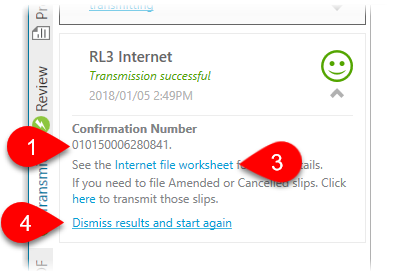 Filing Amended and Cancelled slips
If you have Amended or Cancelled slips to file, Dismiss all CRA messages and start again link to return to the Ready to Transmit step. When you do this, TaxCycle quickly checks for any new errors that could get in the way of filing.
To file amended slips, click the Transmit Now! link under the Amended slips section.
To file cancelled slips, click the Transmit Now! link under the Cancelled slips section.