Updated: 2021-11-15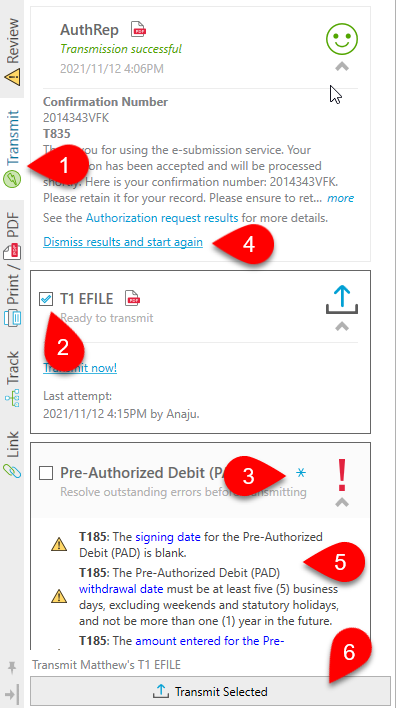 Each year, government authorities add more electronic filing types. To save you time, you can transmit more than one transmission type for the current taxpayer right from the Transmit sidebar. 
Click Transmit (or press F12) to open the sidebar.
Check the box next to each type you want to transmit in the group.
Certain boxes are checked by default based on what is set in Options. If you check or clear a box and it differs from what is in Options, a blue asterisk appears next to the name. Click the asterisk to revert to the default.
Boxes that have been either successfully or unsuccessfully transmitted do not show a check box until you expand the box and click the link to Dismiss results and start again. They are never included in a group transmission, no matter what the last state of the check box was.
Work through any outstanding errors in each checked transmission type. 
When all the checked boxes are in the Ready to transmit state, the Transmit Selected button becomes active at the bottom of the sidebar. A list of the types that will be included in the transmission appears above the button, so you can quickly verify which types are included. Click the Transmit Selected button to transmit all the selected types.
Confirm you wish to transmit. You can disable this prompt; see Group transmission options below. 
Each box updates with the results of the transmission attempt. The file history and workflow status are also updated.
Group transmission options
To open Options from the Start screen, click Options in the blue bar on the left side. If you have a file open, go to File menu, then click Options.
On the left side of the dialog box, expand Transmission, then click on Workflow. 
If you wish, check the box to Always show a confirmation message before attempting a multi-transmit task.
For each transmission type, check the box in the Selected for Group Transmission column, to automatically include it when transmitting multiple types from the Transmit sidebar, or when transmitting returns for an entire family. 
Click Apply or OK to save your changes.