Updated: 2021-03-22
The Engagement Status section of the client record displays the current status of the engagement selected at the top of the page. It also allows you to add more documents for approval/signature, resend requests, update the phone number and email address used to request the signature and more.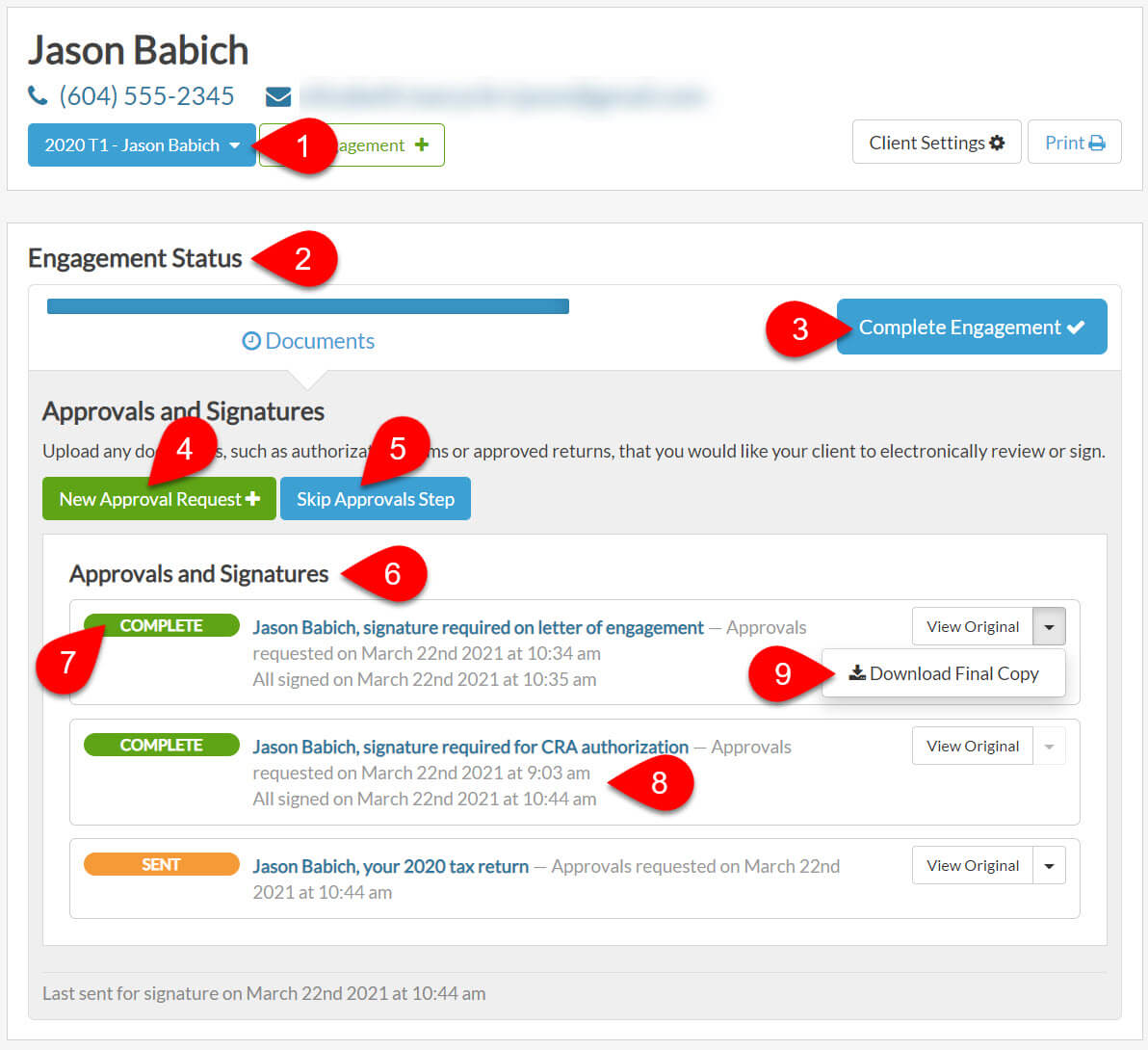 If the client has multiple engagements, click the drop-down in the client details to switch between engagements.
The Engagement Status section changes to show the details of the selected engagement.
Click the Complete Engagement button to move the engagement to the Completed tab on the Client Dashboard. Preparers can no longer request e-signatures from this client. If you would like to perform additional actions, use the engagement settings to change the status back to In Progress (see Managing Engagements in TaxFolder).
Click the New Approval Request button to upload a document and request signature or approval of that document. See the Send a Document for Signature or Approval from TaxFolder help topic for detailed instructions.
Click the Skip Approvals Step to indicate that signatures or approvals are not required for this engagement (this is different than marking a request as complete, see below).
Each document (or collection of documents) sent to the client shows in the list of Approvals or Signatures.
The status of the request appears on the left.
Time and date stamps of the request and approval/signature appear under each request.
For Complete documents, click the View Original button and select Download Final Copy to see the signed/approved copy of the document.
The last page of the final copy includes the Electronic Signature Certificate which provides the unique document ID along with the time and date of the request and approval. Keep this page as an audit trail of the signature/approval request should you need it.
For Sent documents that are not yet signed or approved, click the View Original button for additional options.

Select Resend Requests to resend the email to the client with the link to sign or approve the document.
Select Mark Approvals Complete if you receive the signature or approval by a different means. This changes the status of the document to complete without receiving a signature or approval through TaxFolder. You are then responsible for collecting that signed document or approval through another method.
Select Edit Fields to update the details related to the request. This allows you to edit the details of the request using the same fields as when you send a document for signature or approval from TaxFolder. This is where you go to edit the email address or mobile phone number of the client for a specific request. See also Updating Client Email and Phone Number in TaxFolder.
Select Delete File to remove the file from TaxFolder so that neither you nor the client can access it. You must confirm by clicking the Delete button as you cannot undo this action.