The current status of your connection to TaxFolder shows at the bottom of the dialog box. If required, click Connect to sign in to TaxFolder with your TaxCycle account.
The first time you send a document via TaxFolder, it automatically creates an Engagement in TaxFolder with the client's name. TaxCycle will only send the email asking clients to upload documents when creating a new engagement. If you want to associate a request with an existing engagement, select the client's name from the list. You can also type in this field to enter a custom engagement label
Click Generate PDF to send the document for signature.
The Print Monitor at the bottom of the sidebar shows you the status as TaxCycle sends the document for signature.
If this is a new engagement, TaxFolder sends an email to the client requesting that they upload documents to the client portal. To learn about the process for uploading a document, see How to Upload Documents to TaxFolder. (You will also receive an email once your client uploads documents.)
Ask a Client to Upload Documents from TaxFolder
To send the same emails from the TaxFolder Client Dashboard, add the client to TaxFolder. For instructions, see the Add/Invite a Client to TaxFolder help topic.
Resend the Activation Email
To resend an activation email through TaxFolder Client Dashboard:
Sign in to TaxFolder.
On the Client Dashboard, click on the client's name to open their record.

On the client's record, click Client Settings.
Select Resend Activation Email.

An alternative to resending the activation email is to trigger a password reset email for the client. Either you can do this or your client can. Note that this does not send the activation email, but it does send the link required to set a password and gain access to TaxFolder.
You can find instructions on requesting a password reset in the How to Sign in to TaxFolder PDF.
Default TaxFolder Options in TaxCycle
The TaxFolder page in options allows you to show or hide check boxes on Printer and PDF Output Options.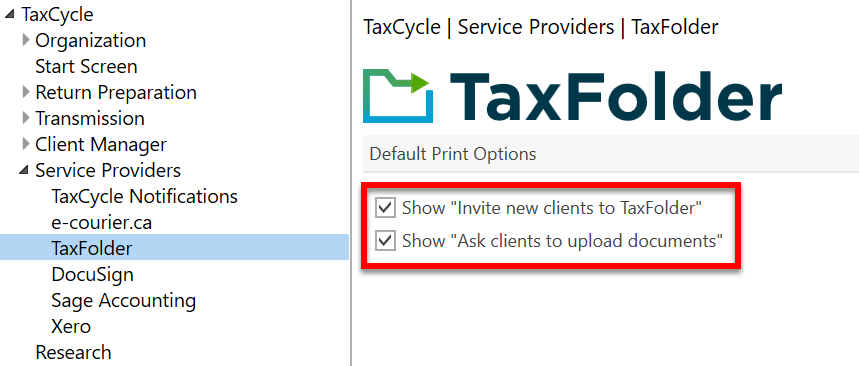 By default, both options are enabled (checked), and the Invite new clients to TaxFolder and Ask clients to upload documents check boxes show when printing a PDF to TaxFolder. You can then choose to send these email messages when printing to TaxFolder.
Disabling (clearing) either of these check boxes in options hides and disables the related check box on the printer/output dialog box. The two related email messages are NEVER sent to your clients.
These new options work with the Notification Settings in TaxFolder. To disable invitation emails for all new clients, regardless of what you set in options or when printing, change the setting in TaxFolder.