Updated: 2020-07-22
To open options, go to the File menu, then Options. Or, if you are on the Start screen, click Options in the blue bar on the left. The settings below are accessible from section on the left-hand side of the Options dialog box.
On the left, expand a module—such as T1/TP1—and click on File Naming to apply the settings to all years. To set separate options for each year, expand the File Naming section and then click on a specific year.
Each module has different options based on the type of tax return you are preparing. Follow the same steps to set up file name for other modules.
Choose the contents of the name:  SIN, taxpayer name(s), business number, tax year, etc.
Choose whether to prepend the year to the file name.
Choose whether to add the adjusted date when completing an adjustment.
As you make selections, TaxCycle shows sample names.
Click Apply or OK to save your changes.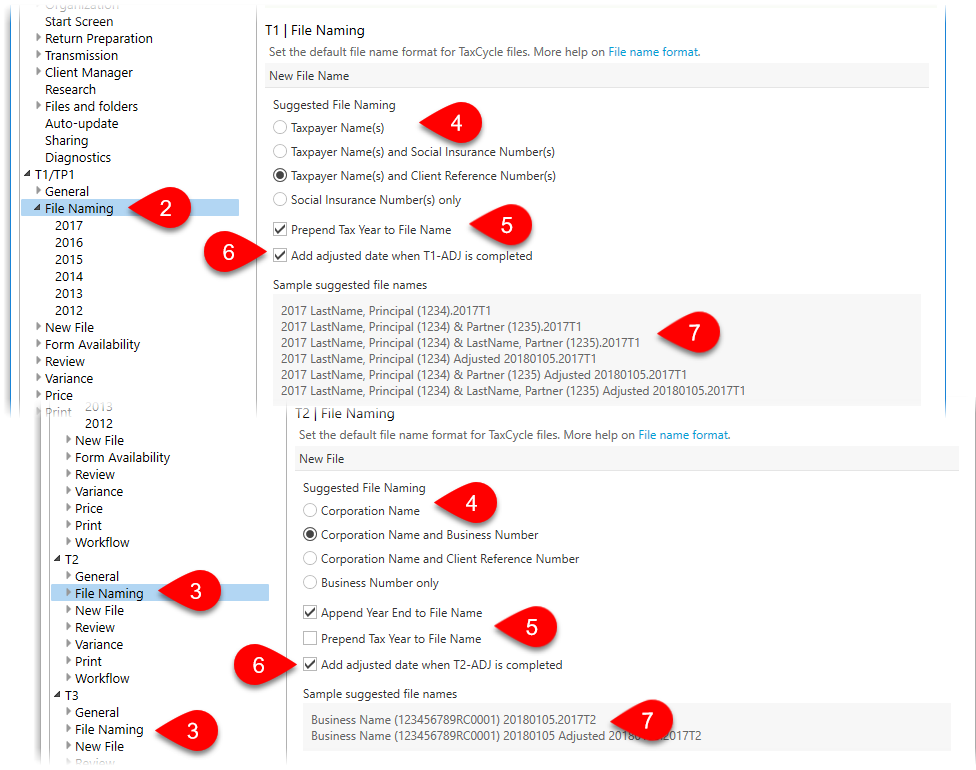 Bulletin suggesting a file name change
If you change the taxpayer's name (for example, to fix a typo), couple/uncouple the return, or enter a date of death, and the suggested file name is different from the actual file name:
TaxCycle shows a bulletin suggesting renaming the file.
Click the link to rename to the suggested name.
This is particularly useful if you add a spouse at a later date, and want the file name to reflect that. Also not that dependant modifications do not trigger the rename bulletin.