Updated: 2023-02-16
The Transmit sidebar only transmits returns and requests for the current taxpayer. You can transmit returns and forms for all family members in the file at the same time from the File menu.
Click File, then Transmit Family. Or press Ctrl+Shift+ F.
On the right, you will see the list of all people in the file and their status for each of their required transmissions. These are the same boxes that appear in each taxpayer's Transmit sidebar.
Under Transmission types, check those types included in this transmission. Clearing a check box removes the type from all taxpayers on the right. Successfully transmitted returns or forms are never included in the transmission.
Check Confirm ALL outstanding signatures upon transmission to confirm any outstanding signatures before transmission. Remember, all taxpayers must sign their T183 to authorize you transmit the return.
Under People, check the names of those you wish to transmit. Clearing a check box removes the person from the transmission.
When all of the selected transmission types are ready, the Transmit button becomes active. Click it to begin transmitting the returns.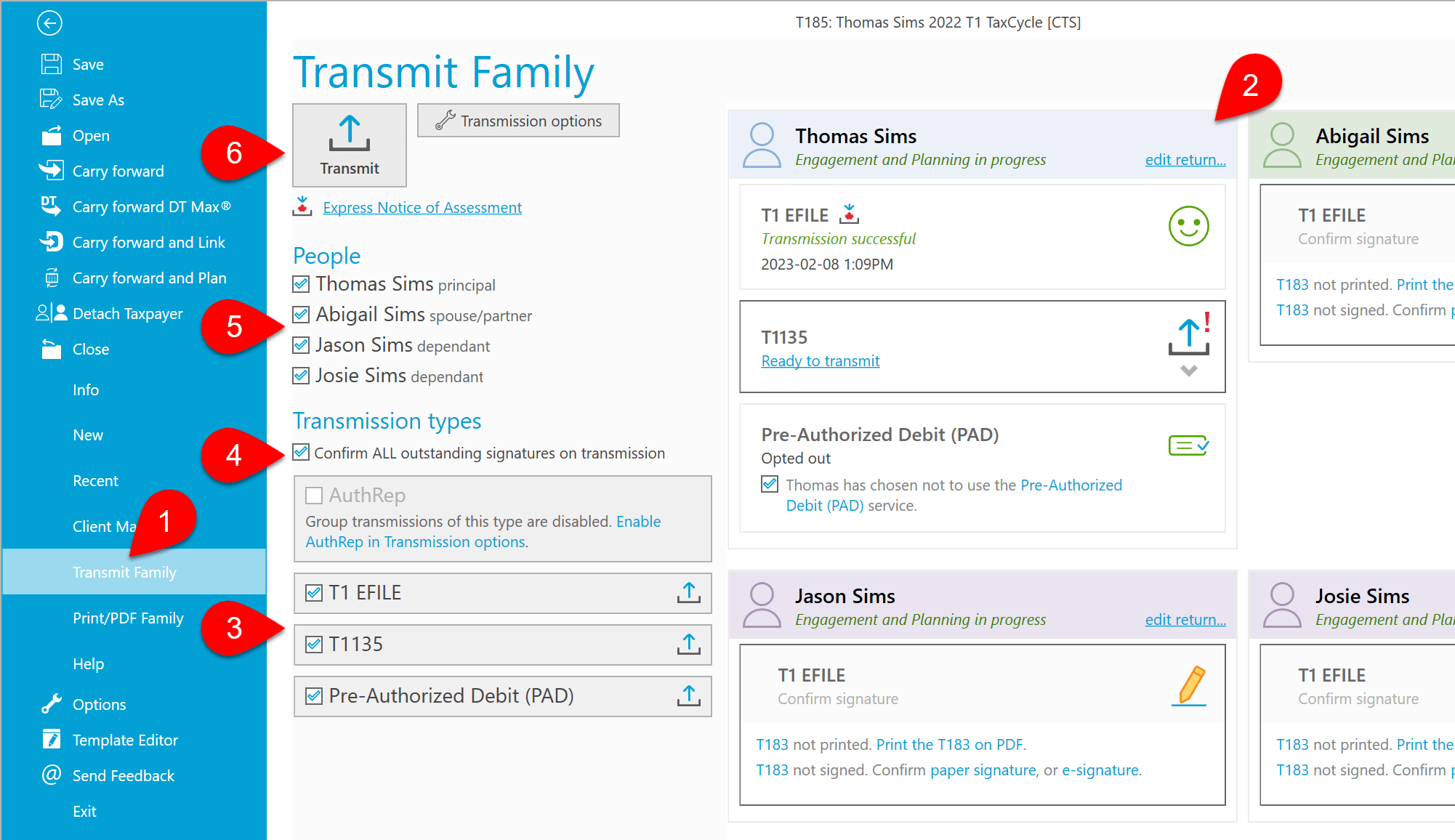 In the dialog box that appears, click the Transmit now! button to confirm that you want to transmit these returns and forms together.

Each box updates as the return or form is sent.
Click the stop link to halt the transmission before all the returns are sent. The transmissions will pause and you will see a message telling you which types have already been transmitted and asking you whether you wish to continue. Click the Resume button to transmit the remaining types. Click the Stop button to cancel the remaining transmissions.
If a transmission fails, TaxCycle halts the remaining transmissions, giving you a chance to correct the issue before proceeding.

Group Transmission Options
To open Options from the Start screen, click Options in the blue bar on the left side. If you have a file open, go to File menu, then click Options.
On the left side of the dialog box, expand Transmission, then click on Workflow.
To hide the confirmation dialog box, clear the check mark next to Always show a confirmation message before attempting a multi-transmit task.
For each transmission type, check the box in the Selected for Group Transmission column, to check its box by default when transmitting multiple types from the Transmit sidebar, or when transmitting returns for an entire family.
Click Apply or OK to save your changes.