Updated: 2020-07-22
Set the defaults for form fields on each new file you create or carry forward:
From the Start screen, click Options in the blue bar on the left side. If you have a file open, go to the File menu, then click Options. 
On the left, expand T1/TP1 (or a different module) and click on New File to apply the settings to all years. To set different options for a particular year, expand the section and click on a year.
On the right, you set defaults for some optional carry forward values. Such as whether to carry forward the answer to the Elections Canada question. 
Scroll down to set default values to insert into created files, such as the city, province, language, authorizations form preferences and much more (see below).
Click Apply or OK to save your changes.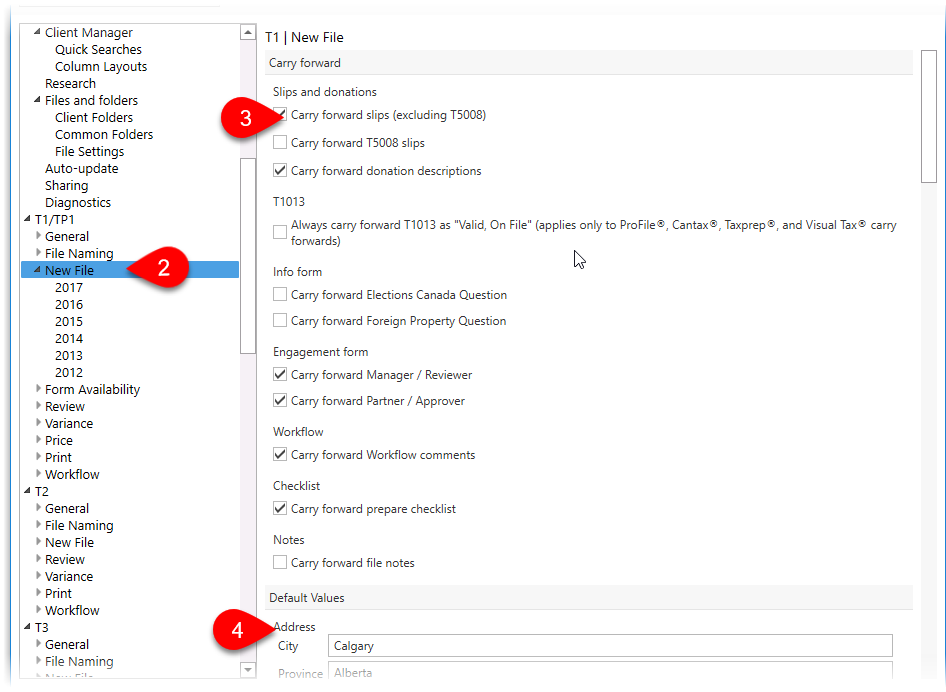 What can you set?
We're adding new options all the time. It's always best to go to Options in TaxCycle and review what's there as the list below may become out of date. If there's something you think we should add, let us know.
T1 returns
What items to carry forward from the prior year.
Default values for the taxpayer City and Province.
Default optimization goal and thresholds for the Optimizations worksheet.
The default language of correspondence and citizenship.
Default address to send the Notice of Assessment and taxpayer refund.
Pre- and post-assessment contact method.
Automatically entering the maximum Old Age Security (OAS) pension on the T4A(OAS) slip for taxpayers over 65.
Signing date defaults for the Info worksheet T183, T1013, T1135, MR69 and TP1000.
Default selections on the T183.
Default authorization type and level for the T1013, MR69
Default instalments selection for the Instalments worksheet.
Default disclaimer for the T1 jacket and income statements
T2 returns
T3 returns
What items to carry forward from the prior year.

General and business disclaimers.

Default language of correspondence.
Whether or not to use optimization calculations.
Default signing dates for T1013, T3 and RC69
Default authorization level for the RC59 and T1013.
T4/T4A returns
T5, T5018 and NR4
What items to carry forward from the prior year.
Default language of correspondence.
T3010 returns
T5013 returns
TaxCycle forms
Warning when the value doesn't match options
If you have already carried forward your files to the current year, you can still change the default New File options. TaxCycle will display a review message, like the one below, letting you know when the choice in the field on the Info worksheet does not match the default you have set in options. Click the blue link in the message to quickly update the client file.
And, TaxCycle will automatically carry forward your choice to the next tax season.