Updated: 2021-09-07
Occasionally, you need to prepare a T1 or T3 return for a taxpayer who resides in one province but has a income from another. Do this by using the T2203 form.
Trigger the T2203 form from a T2042 farming statement
Start a return for the taxpayer and complete the address and province of residence on the Info form.
Start an income statement, for example the T2042 Statement of Farming Activities.
Enter the province and postal code from the other province in the address field on the income statement. 
Enter income on the statement.
TaxCycle uses the income, province and postal code to determine whether multiple jurisdictions' use is applicable. If it is, the income will appear in the allocation table on the T2203 form.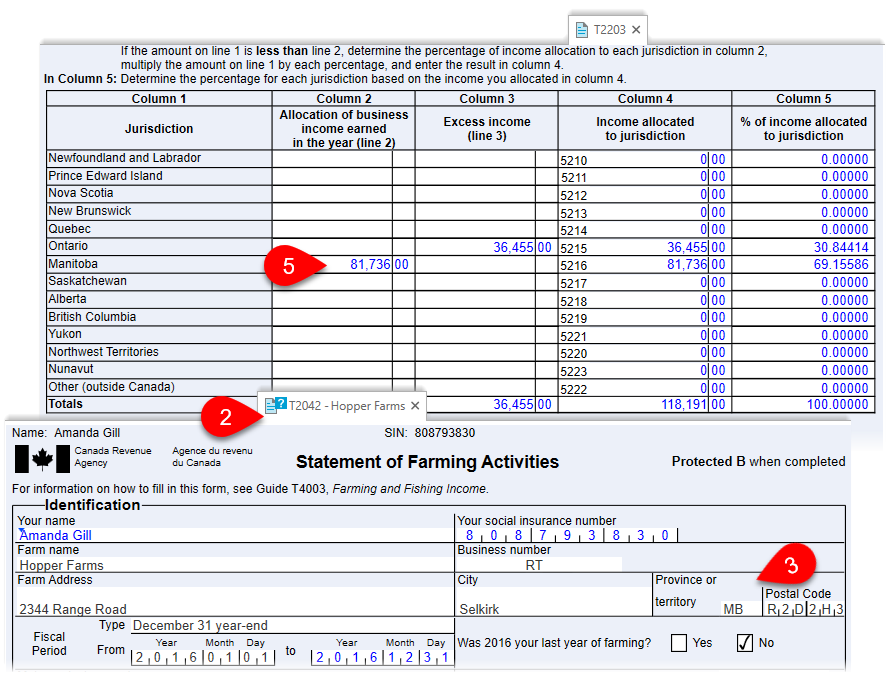 AgriStabiliy/AgriInvest main farmstead
If a client is a resident of Alberta but requires a T1273 for an operation in British Columbia where the province of main farmstead is in British Columbia, go to form T2203 to select the province of main farmstead as BC. 
You can now input data into a T1273/T1274 even though the taxpayer is a resident of Alberta. 
For scenario's when one spouse has income in a different province of main farmstead than an other taxpayer, it is best to uncouple the returns and calculate them separately.
T5013 and Multiple Jurisdiction
If multiple jurisdiction income appears on the T5013, use the Multiple Jurisdictions (T2203) section on the form to allocate income to the related provinces. Only positive amounts flow to the T2203.
Part 3 of the T2203 is missing

Part 3 of the T2203 does not show in TaxCycle. Instead, the full provincial 428(MJ) forms handle all the required calculations and fields for multiple jurisdiction. 
The worksheet called Credits(MJ) handles the calculations for multiple jurisdictions along with adding more sections to the dependant form for the required credits to display and calculate.