Updated: 2020-07-22
There are two parts to filing a TaxCycle T3 return: printing and mailing a copy of the T3 return to the CRA and then transmitting the T3 and NR4 slips by Internet File Transfer to the CRA.
File T3 and NR4 slips for beneficiaries electronically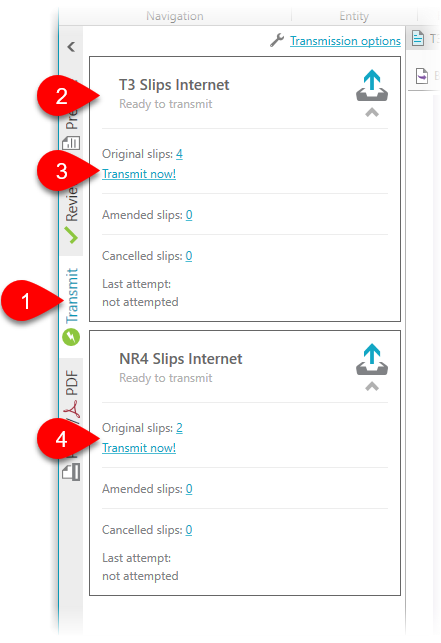 You can electronically file the T3 slips and NR4 slips using the CRA Internet File Transfer (XML) web site.
Click on the Transmit sidebar.
Click on the T3 Slips Internet box to open it.
Follow the steps until you see the Transmit Now! link. Click the Transmit Now!

link to begin the transmission process.

Repeat this for the NR4 Slips Internet box, if required.
Note that you must file Original, Amended and Cancelled slips in separate transmissions.
This is the same process as filing other slip types with TaxCycle. For more detailed instructions, see the Internet File Transfer (XML) help topic.
File the T3RET electronically
You can filing the T3RET electronically. T3RET Internet file transfer is only available for 2017 and later years, if a trust's taxable income, total taxes payable, and refund or balance owing are zero. The CRA has published a list full list of restrictions toT3RET electronic filing on their T3 RET, T3 Trust Income Tax and Information Return page.
The process is the same as for slips and other types of returns filed through Internet file transfer (XML):
Follow the steps in the Transmit sidebar to prepare for filing. See the Internet File Transfer (XML) help topic to learn how.
TaxCycle T3 will determine which returns are eligible for Internet filing. Check the T3RET EFILE worksheet for details of any exclusions. If the return is not eligible, please print and file the return on paper.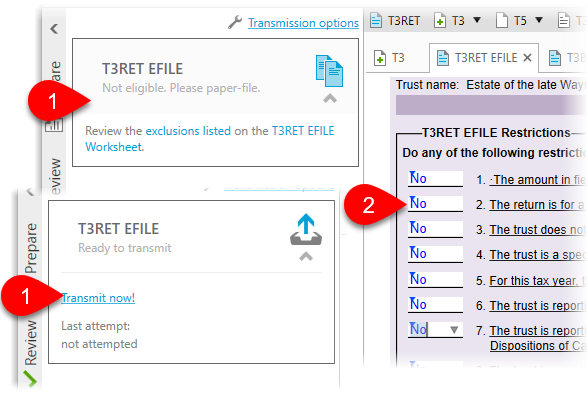 Print a T3 return for paper filing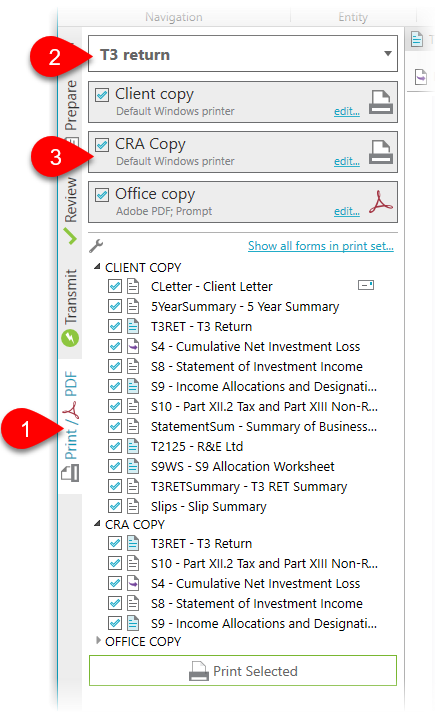 To print the open slips return (see screen capture below):
Click on Print/PDF sidebar or press Ctrl+P on your keyboard.
At the top of the Print/PDF sidebar, choose T3 return.
Print the CRA Copy print set. TaxCycle automatically selects the forms required for filing paper filing a T3 return. For details on available print options, read the Print/PDF options help topic.
Obtain the appropriate signature from the authorized person for the trust.
Mail the paper copy to the CRA.