Updated May 13: Bill C-19 Immediate Expensing
In April 2021, the federal budget included a proposal of temporary immediate expensing for Canadian-Controlled Private Corporations (CCPCs). We have started work on adding the expensing calculations to TaxCycle T2. 
2021 Budget Proposal
The 2021 federal budget proposes to provide temporary immediate expensing to CCPCs for eligible property acquired on or after April 19, 2021, and that becomes available for use before January 1, 2024, up to a maximum amount of $1.5 million per taxation year. Associated members of a group of CCPCs could share this $1.5 million limit. The limit would be prorated for taxation years that are shorter than 365 days. Eligible property under this new measure would be capital property that is subject to the CCA rules, other than property included in CCA classes 1 to 6, 14.1, 17, 47, 49 and 51, which are generally long-lived assets. See the section on Immediate Expensing in Annex 6 of the Federal Budget 2021 (page 614 in the PDF document).
Revenu Québec also announced its intention to harmonize with this new immediate expensing rule in an information bulletin indicating that this measure will be applicable on the same date as that retained for the application of the federal measure. See Information Bulletin 2021-5.
Status of the Legislation
In February 2022, the Department of Finance announced they had released a set of draft legislative proposals for public comment. They include immediate expensing, as further detailed in the backgrounder Expansion of the Eligibility for Tax Support for Business Investments. This document also describes adding immediate expensing to sole proprietorships (T1) and some partnerships (T5013), starting for 2022.
On April 28, Bill C-19 (Budget Implementation Act, 2022, No.1) was tabled in parliament. See C-19 (44-1)—LEGISinfo—Parliament of Canada for the latest status.
Latest Guidance From the CRA
In late April, the CRA informed software developers that they could proceed with adding immediate expensing to the calculation of CCA deduction in T2 returns.
In early May, the CRA also released a draft version of T2 Schedule 8. However, we are not yet permitted to add the form updates to TaxCycle.
After May 16, 2022, corporations can file T2 returns that include immediate expensing of CCA on T2 Schedule 8. However, until the new T2 Schedule 8 is implemented in TaxCycle T2, corporations can only claim the immediate expensing of CCA by overriding the CCA claim amount in column 17 of Schedule 8. (Note that the CRA will allow corporations to claim immediate expensing after May 16, 2022, but not prior to this date.)
If you submit a claim prior to the publication of the revised T2 Schedule 8, the CRA may contact the corporation to submit the information.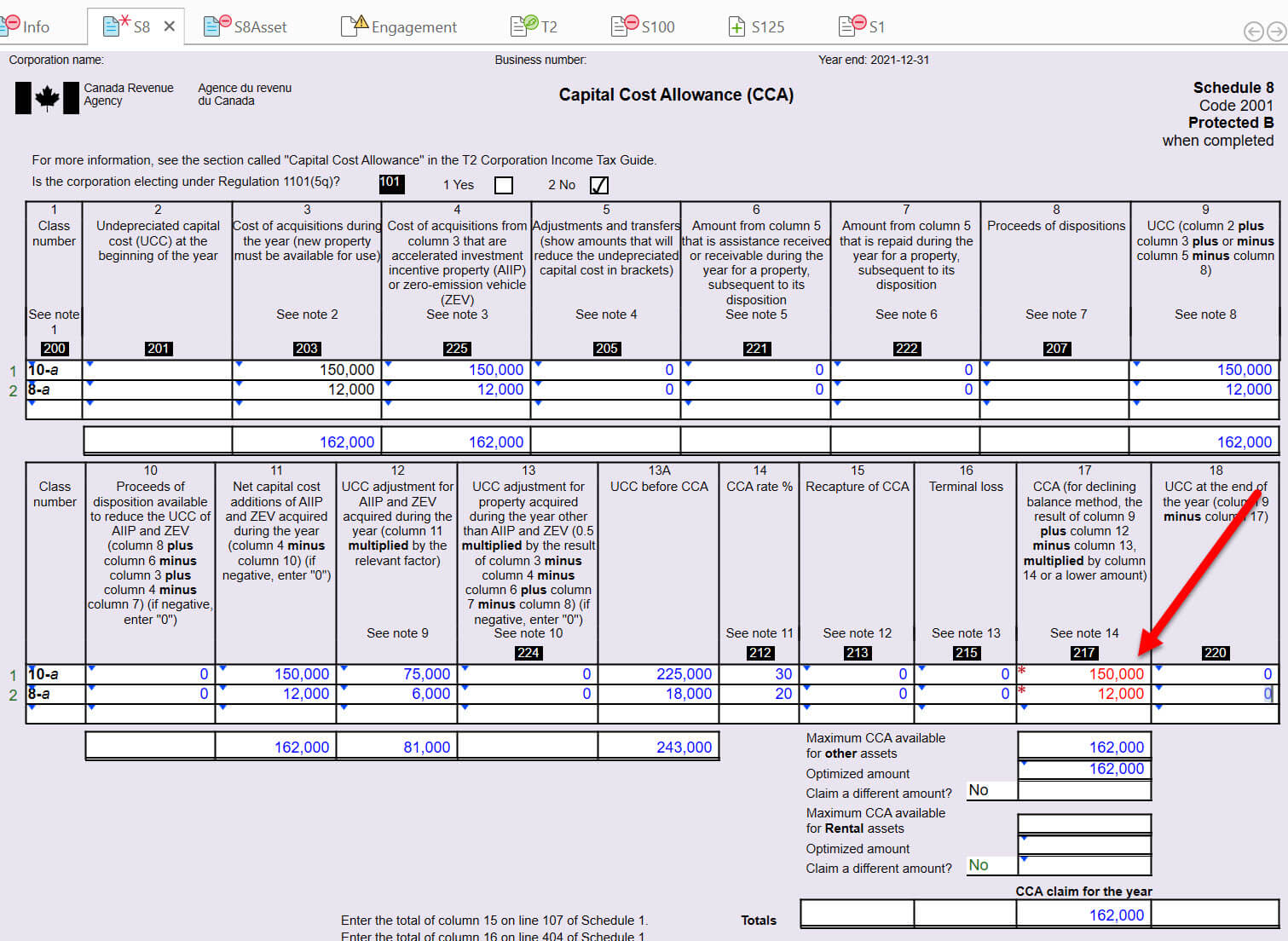 Changes to TaxCycle T2
We have started work on adding the immediate expensing calculations to TaxCycle T2 for a future release. Meanwhile, if you wish to make a claim for immediate expensing, please follow the steps above to override amounts in TaxCycle and file the return.