Updated: 2023-03-14
View Contents of a Bar Code
Hover over any bar code in TaxCycle to see its contents.
Copy a Bar Code
Hold down Ctrl+Shift while clicking on a bar code to copy the information to your clipboard for pasting into another program.
Example: Bar Code From the T1 Condensed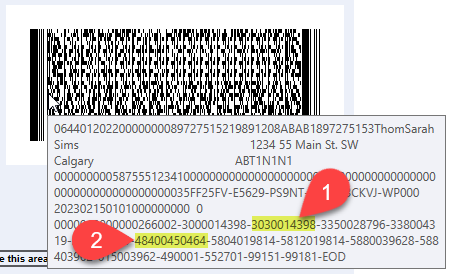 In the pop-up, you can see that the bar code contains the following personal information:
SIN (897275152)
Birth date (19891208)
Province or residence (AB, twice)
Spouse's SIN (897275153)
Spouse's name (Thom, short for Thomas)
Taxpayer's name (Sarah Sims)
Address
Postal code
The rest of the information is line numbers followed by values, and separated by dashes. For instance, 3030014398 means line 303 contains a value of $14,398.
Most of the fields are dollars only, except for fields that appear with dots to the right. These values are shown including cents. For instance, line 484 has a dot beside it on page 4 of the T1 Jacket. Thus, 48400450464 means that line 484 has a value of $4504.64.