Updated: 2020-07-20
TaxCycle preparers tell us they LOVE Auto-fill my return (AFR) in TaxCycle T1 because it makes their work easier, faster and more accurate. However, one of the challenges with reviewing data downloaded from AFR is reconciling it with the slips and statements your clients give you. The names on the statements are often different and divided up differently than in the AFR download. Reconciling these differences becomes more involved when you want to aggregate similar slips and retain those matches year-over-year, client-to-client. This is why we created SlipMatch.
The current beta version of SlipMatch automatically matches T3 slips downloaded from AFR with a list of fund company names we download into TaxCycle. (We have other plans for the service in the future.)
SlipMatch data use
When you enable SlipMatch, TaxCycle connects with our web service to do the following things:
Send the fund names you download from the Canada Revenue Agency (CRA) to the web service. It then matches this data with the list of fund company names we already have.
After you review and adjust matches for import, TaxCycle sends your matches back to the web service to help improve future matching (this is the machine learning part).
Rest assured, no identifying taxpayer information, no account numbers or box values from the slips are sent to our web service. We only receive the fund names and information about matching those fund names.
Try SlipMatch this season
We're debuting SlipMatch this season as a beta feature for T3 slips. If you want to try it, select this box before you download information.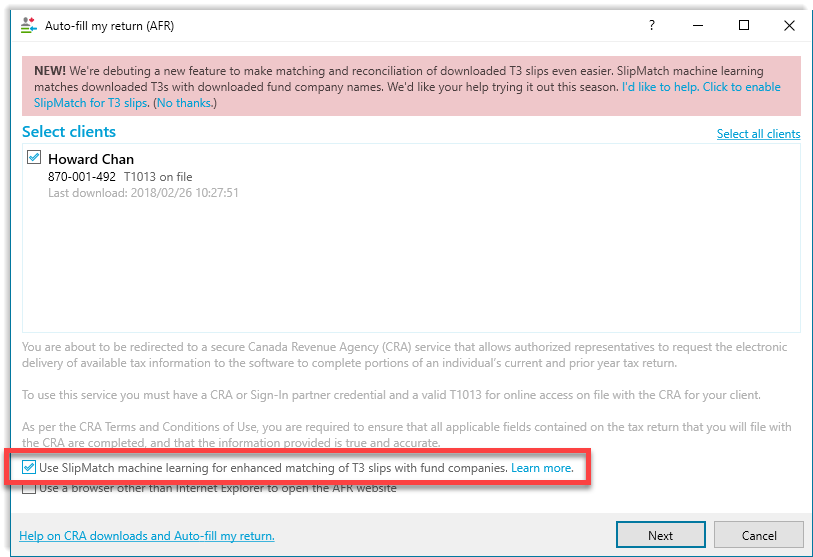 What's different about SlipMatch?
When you enable SlipMatch before downloading data from Auto-fill my return (AFR), suggested fund company names appear below the fund name for each slip

. 

In the cases where SlipMatch is less certain of matching fund company, the name is preceded by the word Maybe.
If there are several slips that match the same fund company name, SlipMatch suggests aggregating those slips into one slip using the fund company name as the slip issue, making it easier for you to reconcile totals that appear on your clients' statements. (Without SlipMatch, this suggestion occurs based on the fund name.)